Early Buzz: 'The Theory Of Everything' Turns Eddie Redmayne And Felicity Jones Into Oscar Contenders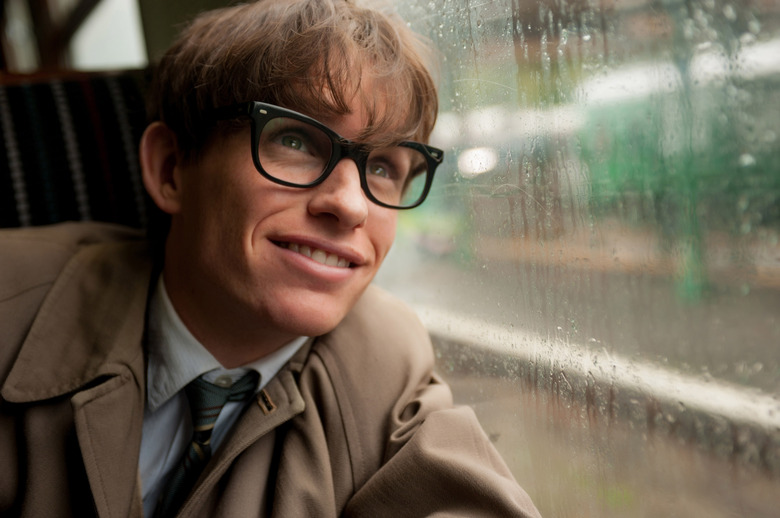 Eddie Redmayne made Stephen Hawking cry. And he'll probably make you cry, too, if the early buzz on The Theory of Everything is to be believed.
The James Marsh-directed drama chronicles Hawking's life from young adulthood, with a particular focus on his relationship to his now-ex-wife Jane. The film itself has gotten generally positive reviews from its TIFF premiere this weekend, but Redmayne and Felicity Jones' performances as the devoted couple already have critics murmuring "Oscar." Hit the jump to get The Theory of Everything early buzz.
Facing the physical challenges of depicting Hawking's disability, Redmayne pulls it off with enormous grace and endurance, and it's not just the assist from prosthetic teeth and ears that helps him create an impeccable mimicry of the real man. Jones almost has the harder part in a way, even though she doesn't have to play someone with a physical handicap, and she holds her own well, although the aging makeup and costumes are less persuasive in the final stretch.
Still, what's onscreen is less a cerebral experience than a stirring and bittersweet love story, inflected with tasteful good humor, that can't help but recall earlier disability dramas like "My Left Foot" and "The Diving Bell and the Butterfly."
Redmayne is a corker in the central role, and though the film has an Oscar-ready profile — Redmayne is playing a real person who dramatically suffered from a crippling disease, so the script might as well have come with an Academy Award nomination paper-clipped to the front page — he'll be one of several strong competitors this year in a stacked Best Actor category. I hope, then, that the awards season spotlight shines on Jones, too: Near the end of the film, when Redmayne can move little but his eyes, Jones and her soul-stirring peepers match him beat for beat.
[M]uch to my surprise, director James Marsh, the writer Anthony McCarten, and the film's two rather extraordinary leads have made a biopic that is witty, engaging, and genuinely moving. Tastefully filmed and lushly scored, it's also the rare biographical film that doesn't dispense with art to tell its story as efficiently as possible.
Physicist Stephen Hawking's ability to continue working despite his diminished physical state due to Lou Gherig's disease is almost as famous as his pioneering theories of space and time. In the mawkish biopic "The Theory of Everything," that tragic development overshadows his real achievements in a formulaic tearjerker that nevertheless delivers on its narrow focus.
It should be stressed that "The Theory of Everything" will likely disappoint diehard fans of Hawking's science. Pivotal moments of his career are not ignored, but they are contextualized around the personal hardships of his private life shouldered by an exceptionally courageous woman. And this film will by no means affirm that Marsh directs fiction better than he documents real life. The film is a boilerplate biopic, but with stunning cinematography and a couple of fierce performances, "The Theory of Everything" is nothing if not an accomplished and emotional work of cinema.
Eddie Redmayne plays Hawking with a conviction that's sure to gain notice, a role that's in some ways superior and more subtle than the rightfully celebrated turn by Daniel Day Lewis in My Left Foot. While far less of an art-drama than that film, Redmayne nonetheless conveys both the physical aspects of his character's affliction, as well as the sparkle in the eye and wry responses to certain storyline aspect.
Actors who undergo extreme physical transformations for dramatic roles often are overpraised for their performances. That will never be the case for Eddie Redmayne's remarkable depiction of Stephen Hawking in the new Focus Features drama "The Theory of Everything." [...] There is one particularly powerful scene in Hawking's later years where he cries while the rest of his body barely moves (and we mean barely). It's a moment that will haunt you long after you leave the theater.
IGN:
A largely lethargic look at the life of Stephen Hawking, Theory of Everything collapses into a dense relationship drama with more energy than its by-the-books first half. Marsh's direction can handle the intimacy, but not the big picture that turned Hawkings into a celebrity. The movie is all about Redmayne and Jones, who go beyond playing dress up to deliver two performances that will surely rank among 2014's best.
Theory of Everything – Eddie Redmayne is phenomenal as Hawking. The film isn't perfect, but excels on many levels. Huge hit with auds. #tiff

— Alex B. (@firstshowing) September 8, 2014
Eddie Redmayne secures an Oscar nod in an incredible performance for THE THEORY OF EVERYTHING. BIG standing O #tff14 pic.twitter.com/QGq8KWG0Ov

— Erik Davis (@ErikDavis) September 8, 2014
Deeply moved by THE THEORY OF EVERYTHING, a lovely, humane portrait of Stephen Hawking with an astonishing perf by Eddie Redmayne. #tiff14

— Adam B. Vary (@adambvary) September 7, 2014
The Theory of Everything is a beautiful & singular love story. Sure bet for lead acting nods for Eddie Redmayne & Felicity Jones.

— Dave Karger (@davekarger) September 8, 2014
Official synopsis:
Starring Eddie Redmayne ("Les Misérables") and Felicity Jones ("The Amazing Spider-Man 2"), this is the extraordinary story of one of the world's greatest living minds, the renowned astrophysicist Stephen Hawking, who falls deeply in love with fellow Cambridge student Jane Wilde. Once a healthy, active young man, Hawking received an earth-shattering diagnosis at 21 years of age. With Jane fighting tirelessly by his side, Stephen embarks on his most ambitious scientific work, studying the very thing he now has precious little of – time. Together, they defy impossible odds, breaking new ground in medicine and science, and achieving more than they could ever have dreamed. The film is based on the memoir Travelling to Infinity: My Life with Stephen, by Jane Hawking, and is directed by Academy Award winner James Marsh ("Man on Wire").