Robert Downey Jr. Says There's No Plan For 'Iron Man 4'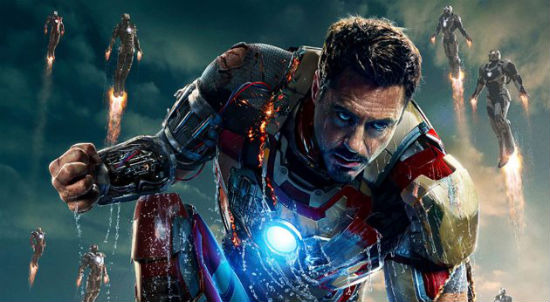 Robert Downey Jr. will be Iron Man in Avengers: Age of Ultron, and he'll probably show up in Avengers 3. But right now he says there's no plan for Iron Man 4.
Why not? Marvel's movie plans are getting bigger and weirder. As the Guardians of the Galaxy explode in popularity, new characters such as Vision are prepped for launch next year. Captain America will get a third film, but pretty soon Marvel is going to be busy launching new characters such as Ant-Man and Doctor Strange. Which means that there is less room for a sequel like Iron Man 4. Read Downey's quote below.
In Toronto, while promoting The Judge, Downey was asked about a fourth Iron Man movie. His answer, to Variety, was very specific.
There isn't one in the pipe. No, there's no plan for a fourth 'Iron Man.'
That could change, of course. But for now, there's a concentration on launching new characters. Kevin Feige has said he likes the idea of doing a new film each year along with a sequel to an existing story. The success of Guardians can't hurt when it comes time to argue that this plan is a solid one. Here's Feige on Marvel's release plan:
I don't know that we'll keep to [that model] every year, but what we're doing this year [in 2014] and what we're doing next year is: existing franchise, new franchise, existing franchise, new franchise. So I think it would be fun to continue that sort of thing. I don't know that we will [do that] all the time, but as a general model, I think that would be fun.
Between Age of Ultron (2015), Cap 3 (2016), Guardians 2 (2017) and whatever else Marvel will announce in the next year, some of those sequels are already spoken for going into 2018. (The sequel in 2018 will likely be Avengers 3.) Where does Iron Man 4 fit in that scheme? At the moment, nowhere. But again, that could change.
Now, we've got a pretty good idea that some of Marvel's first-wave characters will be recast. There's room for someone else to wield the shield of Captain America and the hammer of Thor. As Iron Man 3 makes pretty clear, the Iron Man suit doesn't even really need anyone inside. (Though we expect Age of Ultron will upend that concept pretty quick.) Could a recasting eventually power a fourth film? It's possible, but it wouldn't be a surprise to see Marvel keep Downey around as the godfather of the whole MCU.
Variety also asked Downey about the character being recast. His snark comes through even in print.
I like that the idea is that it would be up to me, like I'm casting director for Marvel.
Downey is probably a bit more powerful than that. (Many actors, for example, might not know whether or not there's another sequel planned.) Point taken regardless.