Early Buzz: Kevin Smith's 'Tusk' Is F-CKED Up, Disturbing And Hilarious [TIFF 2014]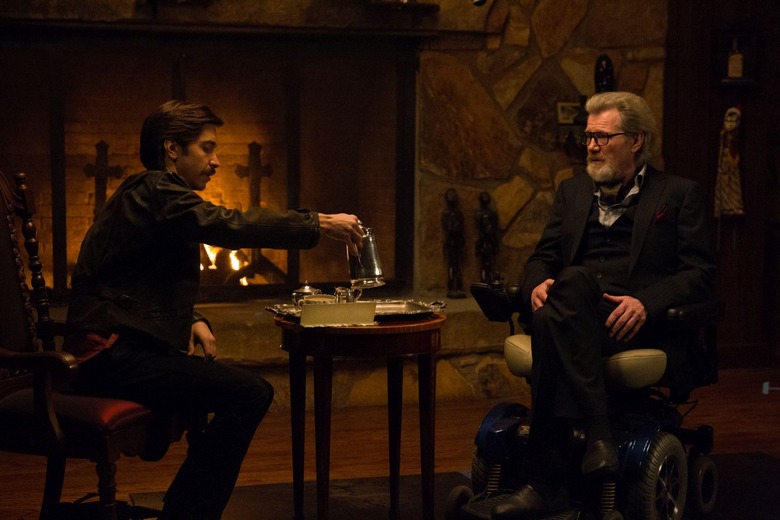 Kevin Smith's latest film Tusk premiered Saturday night at the 2014 Toronto International Film Festival as part of the festival's Midnight Madness selection. The first reactions have been flooding twitter, and it seems like everyone agrees: the movie is fucked up. Is that a good thing? The film reportedly received a standing ovation, and most of the reactions seem to be positive. Hit the jump to read the Tusk early buzz and see the first tweet reactions to Kevin Smith's new horror indie.
For those of you who don't know, Tusk is "a chilling horror tale about the perils of storytelling, following a brash American podcaster as he braves the Canadian wilds to interview an old man with an incredible past—only to discover the man's dark secret involves a walrus." The film stars Justin Long, Haley Joel Osment, and Genesis Rodriguez. Here is the Tusk early buzz from twitter:
Tusk Early Buzz
Matt Patches: "TUSK, a body horror comedy that amounts to Kevin Smith's sweetest film. Rambles, but to "yes, and" itself to new levels of WTF. #TIFF"
Serena Whitney: "Just got out of @tuskthemovie at @mmadnesstiff and wow...so disturbed and impressed! Can't wait to write the review,! #walrusyes"
David (P) Leonard: So @tuskthemovie is totally bananas and really great. So committed to itself. A big #walrusyes. #tiff14
Alex Billington: Tusk – Fuckkkkkked up, wild, weird, absurd only-from-the-mind-of-Kevin-Smith wacky fun. They went full walrus. It's alive! #walrusyes #tiff
Jeff Snider: "SO. FUCKED. UP." ... "I thought I'd seen it all. Then I saw TUSK. Jesus..." ... "Loved newcomer Guy LaPointe as Guy LaPointe. Definitely an actor to watch. He's going places..."
Cherelleski: "The perfect Midnight Madness movie. Indescribable. Disturbing and hilarious."
Ryland Aldrich: Kevin Smith's TUSK is totally wild and totally ridiculous. You might say the Midnight Madness crowd was in stitches.
Mike Pereira: "Tusk is often hysterical, genuinely unsettling, gleefully bizarre stuff until the film meanders in a disappointingly sloppy second half."
Scott Westby: "Fucked rating 10/10"
The Sleepy Skunk: "TUSK: Comedy slapstick that heavily borrows from The Human Centipede and/or Cronenberg's The Fly. But who cares. It was so much fun!"
Matt Young: "@tuskthemovie is possibly the weirdest movie I've ever seen. An must see for that reason alone"
Ian Gibson: "TUSK. So crazy. Guy LaPointe perfection. #YesWalrus" ... "Whoever thought Smith did his own thing before needs to see TUSK, next level. So much Walrus yesing." ... "You cannot get bored of something that out crazes scene after scene. And it's pure Canada!"
J. Olson: ".@JustinLong gives a career best performance in Tusk. Really, really strong work in an absolutely berserk horror-comedy."
aaron: "Horror elements of Tusk are great. Unfortunately it settles into its horrible comedy elements. Big missed opportunity."
Michael J Duyn: "@ThatKevinSmith Tusk was fucked up!! Loved it so much man!"
Marshall Crook: "There's a lot of skin in #Tusk...but none of it is sexy."
matthew honovic: "Tusk features an acting masterclass of Michael Parks and Guy LaPointe"
Cody Ray Thompson: "Just saw the mindfuck that is #Tusk at #TIFF2014 : Guy Lapointe scores!!"
Jason Gorber: "Yup, TUSK is as fucked up as expected, with some crazy cameo casting and a heap or marine mammal weirdness"
Alex Harrouch: "It's hilarious and terrifying. Go see it, Degrassians."
Nat: "Oh my god. What did I just witness? @mingchen37 did not prepare me for this! Wow. #Tusk #WalrusYes #TIFF14 "