See Footage From Unmade 'Who Framed Roger Rabbit' Movie Starring Paul Reubens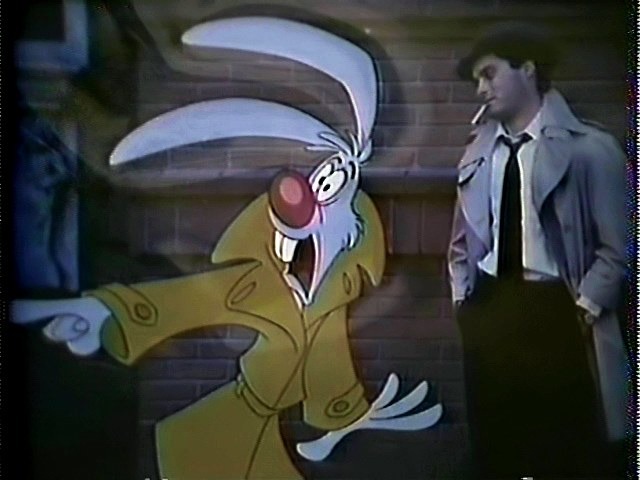 Walt Disney Productions purchased the film rights to Gary K. Wolf's novel Who Censored Roger Rabbit? shortly after the book's publication in 1981, and Disney spent many years trying to bring Who Framed Roger Rabbit to the screen.
In the early 1980's, Disney developed test footage with animation director Darrell Van Citters with Paul Reubens voicing Roger Rabbit, Peter Renaday and Mike Gabriel as Eddie Valiant, and Russi Taylor as Jessica Rabbit. This was right around the time that Reubens was getting ready to reveal his Pee-Wee Herman persona to the world.
The early test footage was broadcast once on a 1983 Disney Channel show called Disney Studio Showcase, and never seen from again — until now. Thief Archive (via CartoonBrew) has found the footage of the television airing of these early animation tests. Watch the Paul Reubens Roger Rabbit test footage now, embedded after the jump.
Paul Reubens Roger Rabbit Test Footage
John Culhane hosts the 1983 Disney Channel show Disney Studio Showcase which takes us behind the scenes of the unmade Darrell Van Citters 1983 version of Who Framed Roger Rabbit, with animator Mike Giamo and producer Marc Sturdivant.
While Roger was a villain in the book, trying to solve his own murder, this Roger is a loveable goofball in white fur and red overalls – a prototype for the final film. Baby Herman is glimpsed only briefly, and Jessica Rabbit appears to be the villain of the piece. Still, this version clearly laid some groundwork for the Zemeckis/Williams production a few years later.
Van Citters says:
"Roger was to be voiced by the then barely known Paul Reubens. Paul had both an excitability and a naïve quality to his voice that we felt was essential to the character's personality. Despite his firmly established role as Pee Wee Herman, Paul is an excellent voice actor, and gave us exceptional readings. We patterned his appearance after both Tex Avery and Bob Clampett design sensibilities. For some reason, big noses figure prominently in many of their character designs. This was for us the archetypal cartoon look. We had no interest in a more complex style—the purpose of this simple comic design was to belie Roger's interior, for our aim was to imbue an outwardly zany character with emotional depth and heart. ... We chose to play against Herman's appearance with a rather haughty Ronald Colmanesque voice. To make him an elitist actor who resented his typecasting in films and lived, instead, for 'the theater.'"
When Michael Eisner became the new CEO of Disney, he reached out to Steven Spielberg's Amblin Entertainment to produce the film, and Robert Zemeckis, who Disney originally turned down for the directing gig (due to his poor record at the box office) came on board and created the film we all know and love. The prototype version of Roger Rabbit did make its way into a Disney animated short film titled "Sport Goofy in Soccermania", seen below: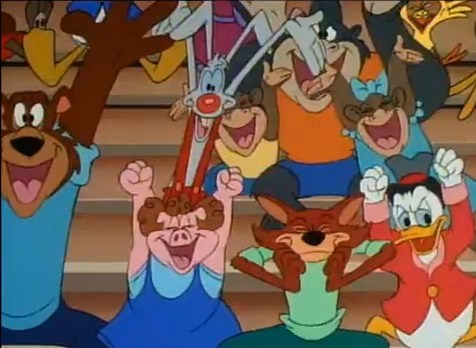 OrangeCow.org has a ton more information about the early film adaptation, alone with a lot of photos and quotes.