Zac Efron And Robert De Niro Team Up For Raunchy Comedy 'Driving Dick Kelly'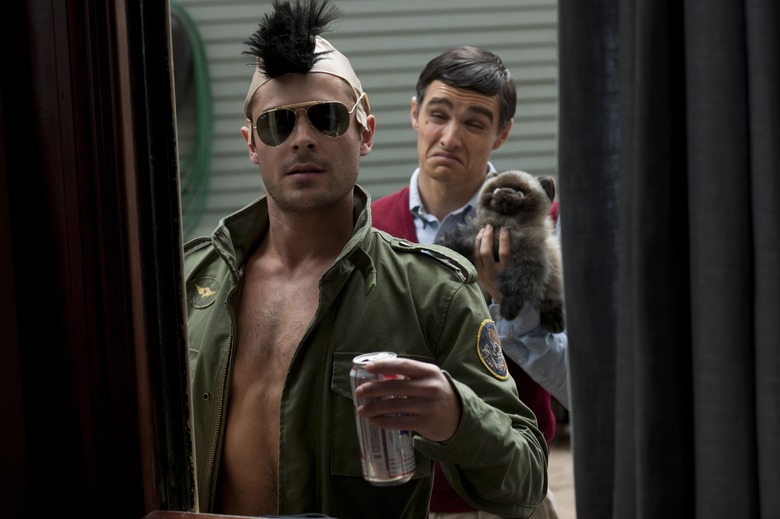 He's definitely not Morgan Freeman, but soon Zac Efron will be Driving Dick Kelly. The Neighbors star has just signed on to star in the raunchy comedy with the legendary Robert De Niro. Formerly titled "Dirty Grandpa," the film is about a recently widowed Army vet (De Niro) who convinces his lame grandson (Efron) to bring him to Spring Break.
Dan Mazer, a producer on Borat, Bruno, The Dictator and Ali G, will direct from a script by John Phillips. Jeff Daniels and Michael Douglas had been circling the lead role when the film was at Universal, but it's now out on its own looking for funding and distribution.
The Wrap broke the deal of the project which, with Efron and De Niro attached, should have no problem finding a home. They're a great duo that spans generations and should have a broad appeal.
The title change makes sense too, as the film sounded eerily close to "Bad Grandpa," the Jackass spinoff which was a hit last year. Driving Dick Kelly not only has the obvious double entendre, it sets up the name recognition to the 1990 Best Picture winner, Driving Miss Daisy.
If you read /Film, it's no surprise I'm a fan of Efron's. His role in Neighbors probably got him a few new fans too and this film seemingly takes those big comedy skills and flips them. He's the meek one in this scenario. The unwilling participant in Dick's plan. That sets up a nice conflict for the character who, of course, will eventually embrace the wild life.
And what needs to be said about De Niro? The guy arguably hasn't top lined a good movie in 15 years, but it doesn't matter. He's a legend and we'll still pay to see him to anything, especially a role like this where he gets to really spread his comedic wings. On the other hand, we saw a bit of that in Last Vegas and Grudge Match and it wasn't pretty.
Do you think there's potential for this Efron De Niro team up, Driving Dick Kelly?