'Supergirl' TV Show In Development From Greg Berlanti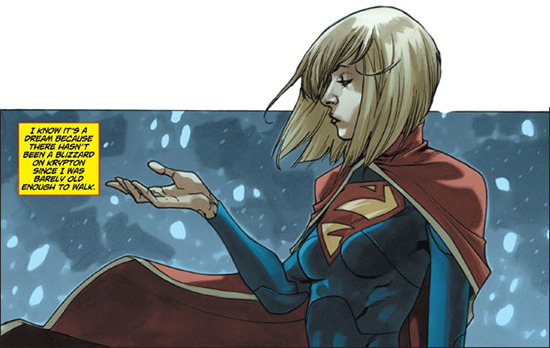 On one hand, the way in which WB and DC have been outpacing theatrical films with TV show development is surprising. Think about it for a moment, however, and it makes sense. The stakes are lower. Stories aren't overthought. Hell, with a full season of TV to play with, shows might not be fully conceptualized from the start at all. Movies seem like monolithic artifacts; they're juggernauts when it comes to defining pop culture. A TV series, especially one considered to be lighter entertainment, is perhaps a bit easier.
And so, despite the fact that the 2011 attempt to make a Wonder Woman show failed, and the second iteration, Amazon, has stalled, DC has managed to follow Smallville with Arrow, and will soon offer The Flash, Gotham, and Constantine on television. (We'll see how it goes with that last one.)
Now there's a Supergirl show in development, too. That's the good news. The bad news is that it's pretty early on, and there's no title, with producers reportedly considering stuff such as Super and Girl. Look beyond that, however, and hope for the best. More info on the new Supergirl TV series follows.
Bleeding Cool originally reported the rumor that Michael Green (Gotham, Smallville, Heroes) was developing the show. Green has worked on the New 52 version of Supergirl. Deadline today clarified that, yes, a Supergirl show is coming, but Green is not involved.
Rather, it is a new effort from Arrow and The Flash co-creator and executive producer Greg Berlanti,who is working with Ali Adler (ABC's No Ordinary Family) on the new series. Warner Bros. TV will produce the show. 
With a couple more weeks work, expect to hear about this being pitched around networks. There's no telling wither it might end up tied to the Arrow/Flash world at The CW, but right now, reading between the lines, it seems like all involved are aiming for a bigger network.
Deadline reports that the show "will be a new interpretation of the Supergirl character and her story. Adler will write the script and will executive produce with Berlanti Prods.' Berlanti and Sarah Schechter." And Geoff Johns from DC is "expected to be part of the project" even if there's no intel on what he'll do.