'Horrible Bosses 2' Trailer And Poster: "The Craziest Criminals I've Ever Seen In My Life"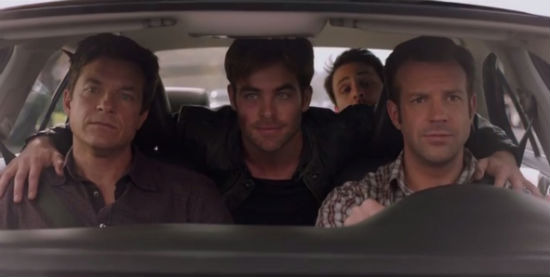 The second Horrible Bosses 2 trailer has just come online and it's just about as dirty as a green band trailer can get. Jennifer Aniston talks about getting plowed. It's that kind of trailer.
Jason Bateman, Charlie Day and Jason Sudeikis reprise their roles from the 2011 hit, in which three normal guys tried to kill their terrible bosses. In the sequel, things once again aren't going too good for the group. So they decide to take up kidnapping. Specifically, they target a guy and his father, played by Chris Pine and Christoph Waltz, respectively.
Directed by Sean Anders, Horrible Bosses 2 will also see the return not only of Aniston, but Oscar-winners Jamie Foxx and Kevin Spacey. In short, this movie has a crazy pedigree. But will it deliver the laughs? Check out the latest Horrible Bosses 2 trailer and poster below.
Horrible Bosses 2 trailer
[via YouTube]
And here's the poster: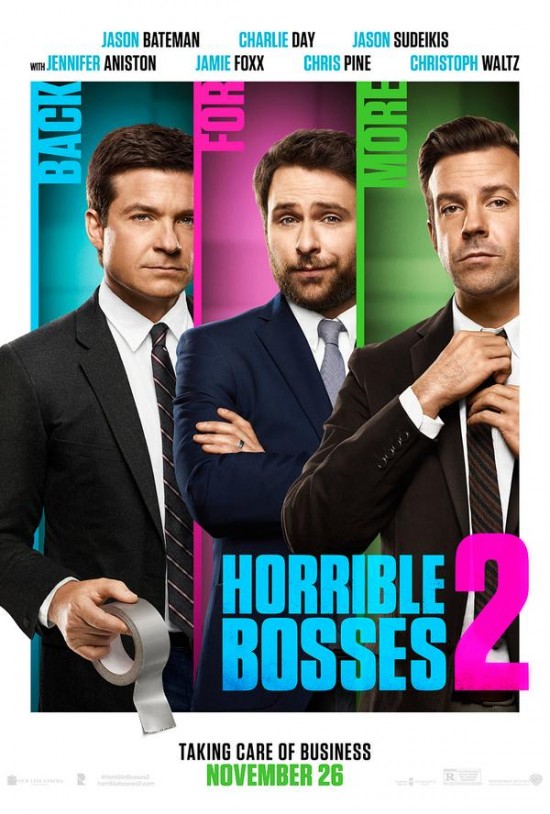 I didn't love the first movie by a long shot but the cast in this one is hard to ignore. Here's the official plot description:
The follow-up to the 2011 hit comedy "Horrible Bosses" reunites Jason Bateman, Charlie Day and Jason Sudeikis as everyone's favorite working stiffs: Nick, Dale and Kurt.
Jennifer Aniston ("We're the Millers"), and Oscar winners Jamie Foxx ("Ray") and Kevin Spacey ("American Beauty," "The Usual Suspects") also reprise their "Horrible Bosses" starring roles, while Chris Pine ("Star Trek: Into Darkness") and Oscar® winner Christoph Waltz ("Django Unchained," "Inglourious Basterds") star as new adversaries standing between the guys and their dreams of success.
Fed up with answering to higher-ups, Nick (Bateman), Dale (Day) and Kurt (Sudeikis) decide to become their own bosses by launching their own business in "Horrible Bosses 2." But a slick investor soon pulls the rug out from under them. Outplayed and desperate, and with no legal recourse, the three would-be entrepreneurs hatch a misguided plan to kidnap the investor's adult son and ransom him to regain control of their company.
"Horrible Bosses 2" was directed by Sean Anders and produced by Brett Ratner, Jay Stern, Chris Bender, John Rickard and John Morris. Serving as executive producers were Toby Emmerich, Richard Brener, Michael Disco, Samuel J. Brown, John Cheng and Diana Pokorny. The screenplay was written by Sean Anders & John Morris ("We're the Millers"), story by Jonathan Goldstein & John Francis Daley and Sean Anders & John Morris, based on characters created by Michael Markowitz. The music is composed by Christopher Lennertz ("Horrible Bosses").
The behind-the-scenes creative team includes director of photography Julio Macat ("Pitch Perfect"), production designer Clayton Hartley ("We're the Millers"), editor Eric Kissack ("The Dictator"), and costume designer Carol Ramsey ("Identity Thief").
A New Line Cinema Presentation, a Benderspink/RatPac Entertainment Production, "Horrible Bosses 2" is set to open beginning November 26, 2014. It will be distributed by Warner Bros. Pictures, a Warner Bros. Entertainment Company.