First Look: Futurama/Simpsons Crossover Episode Reveals Bender Vs. Homer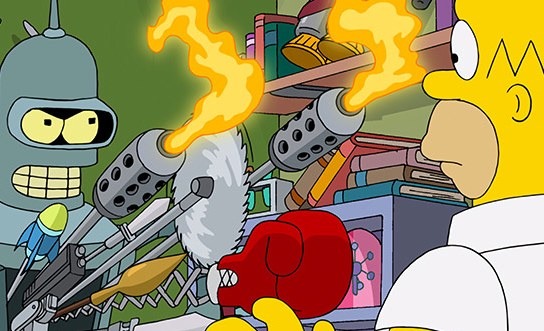 Futurama will return to to the airwaves with Fry, Leela, Bender and company appearing in a special episode of The Simpsons airing on November 9th 2014. Hit the jump to see the first look at this Futurama Simpsons crossover episode.
The Futurama Simpsons crossover episode was announced at Comic-Con 2013, Entertainment Weekly premiered the following first look image showing Homer's encounter with Bender in the Futurama Simpsons crossover episode: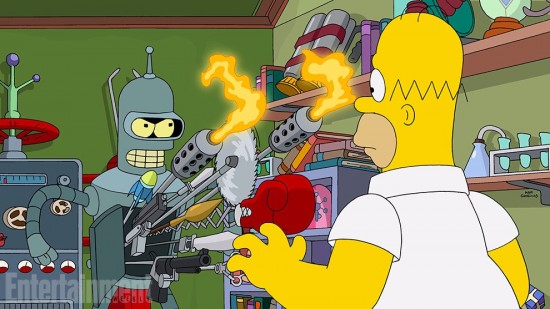 Here are some bits we also learned about the upcoming crossover:
The opening opening credits, a Simpsonized tweak of the Futurama title sequence will feature the tagline: "a show out of ideas teams up with a show out of episodes"
The episode will reunite Futurama voicecast members Billy West, John DiMaggio, Katey Sagal, Lauren Tom, Phil LaMarr, Tress MacNeille, and Maurice LaMarche.
The crossover story will "unspool a complex, Terminator-esque story that involves Bart blowing his nose on a sandwich that he places in a time capsule. When that mixes with Milhouse's rabbit's foot and some radioactive ooze, it creates a global catastrophe in the future, prompting Bender to travel back in time to kill Bart and prevent this mega-mess."
Matt Groening, of course, created both animated television series and they have shared numerous inside joke references throughout their runs — for example, The Simpsons has a running joke that Futurama is a fictional cartoon show on the air in their universe while on The Simpsons is a fictional cartoon show on the air in the Futurama galaxy (you can find a full listing of cross-show references here). The Simpsons has also had crossover episodes before, in the past meeting characters from The Critic and Family Guy.