Watch The Live-Action 'Destiny' Ad From 'Oblivion' Director Joseph Kosinski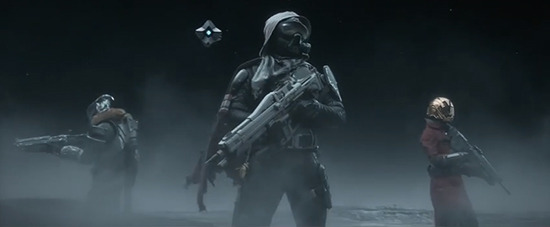 Bungie and Activision are teaming for the "living game world" of the next-gen game title Destiny, and now Joseph Kosinski has directed a live-action ad/trailer for the game. While "live-action" might at first seem a bit generous in this context, as so much of the ad is CG, eventually you'll see stunning environments pulled from real life. And there are definitely real human actors in there, wearing actual costumes — at least one of which looks like it might have been borrowed from Star-Lord's wardrobe.
You'll hear the voice of Peter Dinklage as Ghost, the game's helper AI, and the stuff heard here has been nicely chosen, as it sounds a lot better than the early snippets of his voice work that drew criticism for a flat affect. The improved audio, together with Led Zeppelin's 'Immigrant Song,' keeps things moving here.
Destiny hits the PS4 and Xbox One (and, OK, the PS3 and Xbox 360) on September 9. Ad via YouTube.
A Fireteam heads out on an epic, action-packed road trip across our Solar System to face our enemies, take back what is ours and, in the end, Become Legend. Featuring "Immigrant Song" by Led Zeppelin.