Joan Rivers Has Died At 81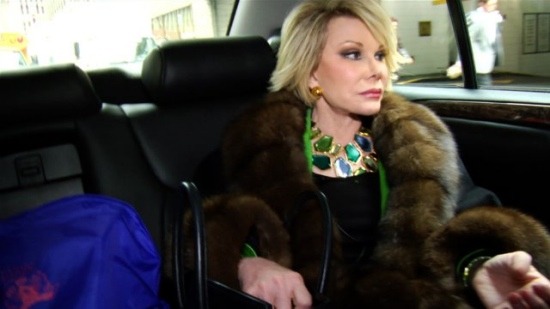 Joan Rivers has passed away at the age of 81, as confirmed today by her daughter Melissa Rivers. The razor-tongued comedian and red carpet critic had recently been in the hospital after she stopped breathing during a surgical procedure at her doctor's office. Read Melissa's official statement and relive some of Rivers' career highlights after the jump.
It is with great sadness that I announce the death of my mother, Joan Rivers. She passed peacefully at 1:17pm surrounded by family and close friends. My son and I would like to thank the doctors, nurses, and staff of Mount Sinai Hospital for the amazing care they provided for my mother.
Cooper and I have found ourselves humbled by the outpouring of love, support, and prayers we have received from around the world. They have been heard and appreciated.
My mother's greatest joy in life was to make people laugh. Although that is difficult to do right now, I know that her final wish would be that we return to laughing soon.
Love her or hate her — and Rivers' acid wit and willingness to tackle controversial topics ensured plenty of members in both camps — she was a pioneer for female comedians. Born in 1933, she broke through nationally in 1965 with a guest appearance on The Tonight Show Starring Johnny Carson. By 1983, she was the show's permanent guest host, but her relationship with Carson soured a few years later when she launched a competing talk show.
Her first series lasted only a few episodes, but by 1989 she had another series, The Joan Rivers Show. That one was a bigger success, earning her the Daytime Emmy in 1990. Later in the decade, she made the turn to red-carpet critic, hosting E!'s pre-awards shows with her daughter Melissa.
More recently, she did a stint on the TV Guide Channel, launched her own QVC jewelry line, starred in several more reality series on TV Land and WeTV, and became the subject of her own documentary Joan Rivers: A Piece of Work. She enjoyed a busy career up until her death. Since 2010, she had been co-hosting E!'s Fashion Police with Giuliana Rancic, Kelly Osbourne, and George Kotsiopoulos. Her last book, Diary of a Mad Diva, was published in July, and she'd been plan to begin a comedy tour this fall.