Is This Our First Look At The History Of Brad Bird's 'Tomorrowland?'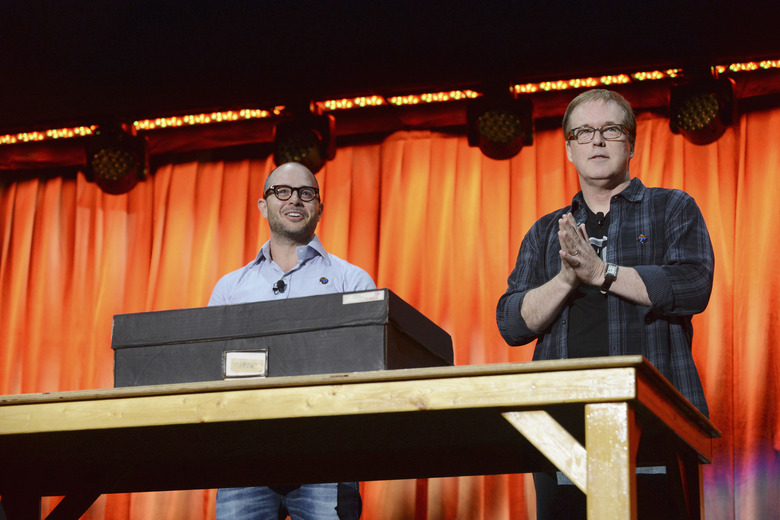 Since last year's D23 Expo, director Brad Bird has been very quiet about his sci-fi Disney fantasy, Tomorrowland. The film stars George Clooney, was co-written by Damon Lindelof, and has been as secretive about its production as that other Disney sci-fi movie. Those flood gates are ready to open though as Tomorrowland will have presentations in the coming months at New York Comic-Con and
.
But that's not all. Leading up to Tomorrowland's May 2015 release date, a prequel book called Before Tomorrowland is in the works and one website believes they've found an early look at it. What do the images show? An epic meeting of the minds that could explain the alternate dimensions in Tomorrowland, as well as a tie into Walt Disney. Check out your possible first look at the Tomorrowland movie history below.
The below images comes from the site
. They
by Jonathan Case, who is illustrating the comic book which comes with the novel.
. They believe these are our first look at the Tomorrowland movie prequel book.
That's a drawing of Nikola Tesla, Thomas Edison, Alexandre Eiffel and others meeting in the "Plus Ultra" society, a mythical group that was said to include a ton of the most important minds of all time, including Walt Disney. The society played a big part in the viral marketing campaign The Optimist,
. You can
 but the main take away is that Plus Ultra helped create an alternate dimension that was accessible though the It's A Small World ride at the 1964 World's Fair.
All of those facts lead us to believe, yes, these is an early look at the book and tied to the Tomorrowland movie history. However it's important to mention they might not be. It might just be a coincidence. But, probably not.
While the Plus Ultra society may or may not appear in the Tomorrowland movie, whatever ideas they came up with will most certainly play into the film. Here's a
of the book Before Tomorrowland:
The year: 1939. The place: The World's Fair. The people: A mother and son suddenly wrapped up in a conspiracy that extends beyond their wildest dreams. Unlock the secrets of Tomorrowland with this original novel and full-color comic book insert.
This deluxe novel dives into the history and ancient conspiracy behind the world of Tomorrowland with an action-packed original story. It includes a 20-page full color comic insert, bringing to life a comic that plays an integral role in the plot. Written by the film"s writers, Brad Bird (The Incredibles), Damon Lindelof (Lost), and Jeff Jensen (Entertainment Weekly), this book is perfect for fans of Tomorrowland and fans of science fiction and alternative history in general.
Are you intrigued by this Tomorrowland movie tie in with these great scientific minds?