See Five Photos From Kevin Smith's 'Tusk'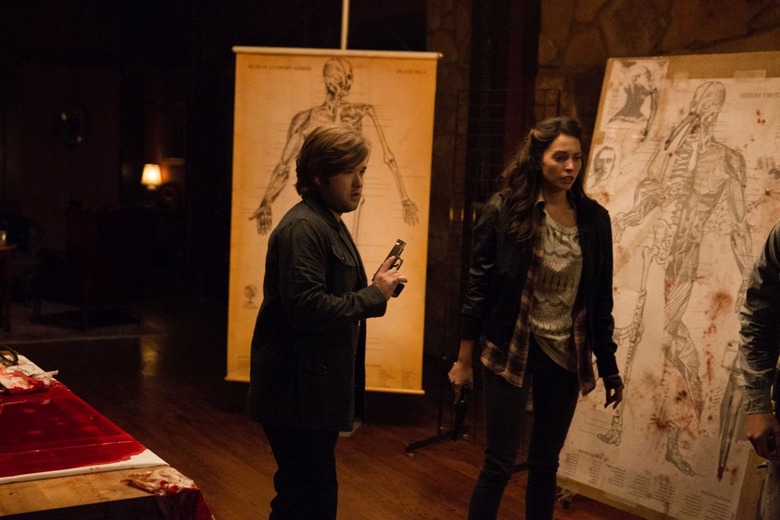 Kevin Smith's latest film, Tusk, premieres at the Toronto International Film Festival this weekend. That means we'll finally get word of exactly how far Smith pushed the envelope in his new horror film, which stars Michael Parks as a man trying to turn another (Justin Long) into a walrus. Haley Joel Osment, Genesis Rodriguez and maybe even Johnny Depp co-star as people looking for Long's character.
We've seen a disturbing teaser trailer from the film and now, five new stills have been released. Everyone above (minus Depp) is represented and yes, they're very creepy. Check out the new Tusk photos below.
Thanks to the TIFF website for the new Tusk photos.
New Tusk Photos
And here's their official description of the film:
In the twenty years since his influential debut feature, Clerks, Kevin Smith has established himself as a singular voice in the American indie landscape with his wry observations of disaffected youth culture. With his 2011 horror film, Red State, and his new film, Tusk, Smith reinvents himself by bringing his comedic chops to a new, disturbing milieu.
Wallace (Justin Long) co-hosts a popular podcast with his pal Teddy (Haley Joel Osment), focusing on cruel, mocking cringe humour as part of their mission to keep it "real and raunchy." After his trip to Winnipeg to interview the "Kill Bill Kid" — a teen whose unfortunate samurai-sword video has gone viral — comes up empty, Wallace decides to make the trip worth his while and find a good story north of the forty-ninth parallel. A handwritten flyer he finds in a bar bathroom leads him to a grizzled old swab (Michael Parks) full of tall tales to share from his life of adventure at sea — and this is where Wallace's voyage to the Great White North descends into straight-up madness.
Smith has always been an expert at easy banter and snappy jokes, but with Tusk he brings his distinctive sensibility to a whole new dimension of terror and the bizarre.
Be warned: even as it deftly delivers on its outlandish and outrageous concept, the film is also aboot how Americans view Canada — so check your patriotic fervour at the door and prepare for a barrage of Canuck jokes and a steaming-hot double-double of strange.
We'll have word on Tusk later this week and our own take later this month when Tusk hits Fantastic Fest. What do you think of the photos?