Bran And Hodor Will Sit Out 'Game Of Thrones' Season 5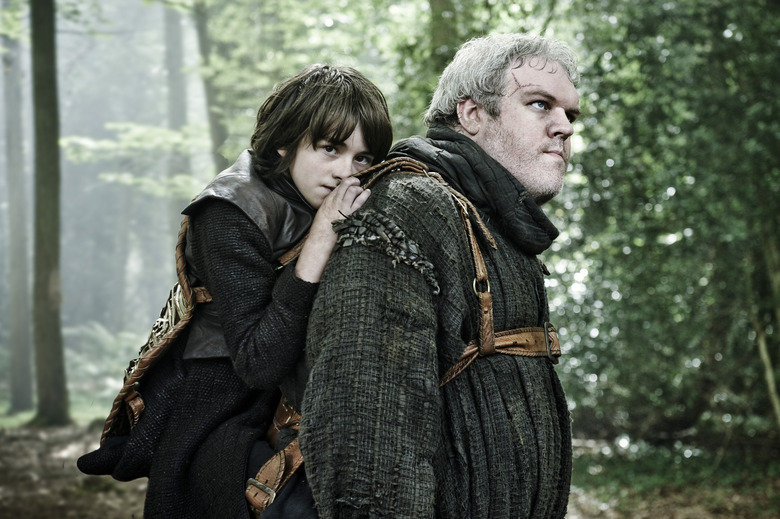 Bran's journey has taken him to some weird places so far on HBO's Game of Thrones, but it looks like we'll be waiting a while longer to see where else it takes him. According to actor Kristian Nairn, who plays Hodor, neither he nor Isaac Hempstead-Wright will be back for the upcoming fifth season. Hit the jump to find out why.
(That last part isn't a joke, by the way. Nairn is a DJ who's been touring the world throwing Game of Thrones-themed dance parties, complete with an Iron Throne replica. Rave of Thrones is currently making its way through Australia, and makes its fist stop in America this fall.)
The news is disappointing but not entirely surprising. Seasons 3 and 4 of Game of Thrones covered Book 3 of George R.R. Martin's A Song of Ice and Fire, more or less, but it also pulled in certain elements from Books 4 and 5. The fifth book being A Dance with Dragons, the last ASOIAF novel released to date.
Bran and Hodor's Season 4 storyline in particular relied heavily on material from A Dance With Dragons, and even added some scenes invented just for the TV series. There's not much of their arc left to adapt at this point.
It's unlikely Bran and Hodor will be the last characters to face this issue. As many people have pointed out many times before, the TV series is burning through the books much faster than Martin is writing them. FiveThirtyEight has an interesting rundown of just how much story is left for major characters.
At some point, the HBO show may have to start covering plot points that haven't taken place yet in the novels. Or, I guess, just sidelining characters until Martin comes back with more stuff for them to do. That approach is bound to work better with these two than with more popular or more central characters.
It'll also be interesting to see what HBO does with the fact that Hempstead-Wright will continue to age as he sits out a season. Time is passing much slower on the show than it is in real life, and Hempstead-Wright already looks very different from the cutesy little moppet we met in Season 1.
By 2016, Hempstead-Wright be 17 — "a man grown," as Martin is fond of putting it in his books. HBO hasn't been afraid to recast characters before, bringing in an older-looking actor for Tommen and swapping in an entirely different Daario Naharis in Season 4.
Game of Thrones Season 5 will air on HBO in 2015.