Dwayne Johnson Is Black Adam In 'Shazam'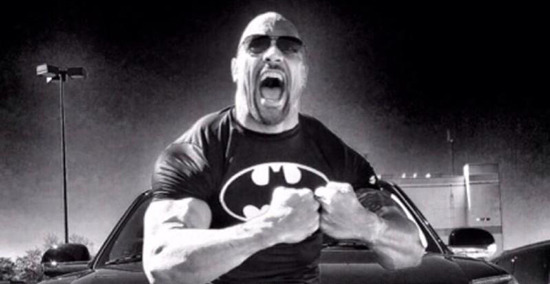 Dwayne Johnson has confirmed the role he'll play in Shazam, and it isn't the good guy. The actor tweeted a photo of the villain Black Adam attacking Shazam, along with a quote and text that clearly puts the Rock in the costume of Black Adam. But he probably won't be an out-and-out bad guy, as word is the film will follow the more recent conception of the character, which casts him as a militant and somewhat reformed anti-hero who struggles to clear his name from past villainous deeds.
Here's the tweet:
"Kneel at his feet or get crushed by his boot." My honor to become.. #BlackAdam #TheAntiHero #DCComics pic.twitter.com/Qk55eNf3R7

— Dwayne Johnson (@TheRock) September 3, 2014
Variety reports that Darren Lemke (Turbo, Goosebumps, Jack the Giant Slayer) has just been hired to write the film, which means it probably won't be going into production super-fast. But once the script is in, says the trade, the plan is to move forward as quickly as possible. Whether the Rock will make any appearance in Batman v Superman: Dawn of Justice, or the Justice League film expected to follow, is open to question.
the Rock in Shazam
That image chosen by the Rock, and the quote that accompanies it, certainly promises more than a reformed anti-hero, however (despite that hashtag) so we're curious to see precisely how the script takes shape. But he almost certainly won't be an out-and-out evil dude, and the film will probably avoid the aspects of the character's past that feature his most horrible deeds. (Like wiping out an entire nation!) But the character has so many iterations over the years, since his introduction in Fawcett Comics in the '40s, that WB and Lemke can pick and choose from dozens of possible stories and characteristics.
Black Adam is actually the original bearer of the power bestowed by the wizard Shazam, which cast him as the protector of Egypt centuries back. But he went bad, and when young Billy Batson gets the Shazam power hundreds of years later, Black Adam emerges as his angry opponent. Does this mean we'll get an origin story with the Rock starting out in ancient Egypt? It's very likely.