Guillermo Del Toro Judging Halloween YouTube Contest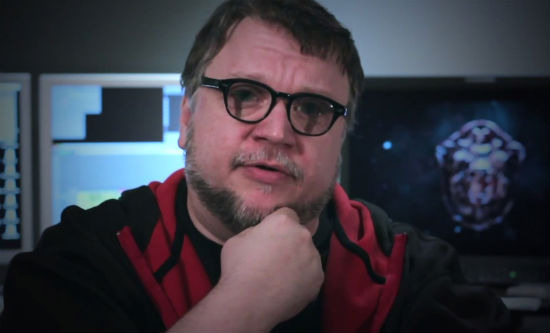 Filmmakers who've dreamed of working on the kind of frightening sets Guillermo del Toro is known for will now have their chance. Del Toro is judging a new contest, presented by Legendary Pictures and YouTube, that'll allow filmmakers to visit specially created horror sets at YouTube locations in New York, Los Angeles, London and Tokyo. The results will then be uploaded to YouTube and a select few will get consultations with Del Toro. One lucky winner will even get a development deal. It's a pretty fantastic opportunity for horror filmmakers and it takes place between September 22 and October 28, 2014.
Below, read the full details of the Guillermo del Toro YouTube contest, see examples of the sets and watch del Toro describe the whole thing.
Here's the Guillermo del Toro YouTube video.
Here are renderings of a few sets:
And here's the full press press release on the Halloween Guillermo del Toro YouTube contest:
YouTube Space House of Horrors: A Legendary Halloween
Halloween just got a whole lot scarier as YouTube Spaces, Legendary Entertainment and master filmmaker Guillermo del Toro are teaming up to deliver horror-inspired content onto the biggest video sharing platform in the world.   
Legendary Entertainment is committed to elevating the horror genre with their signature blend of filmmaking craftsmanship and fan-focused passion. As part of 2014's Halloween holiday celebration, Legendary and YouTube Spaces are partnering to provide the ideal setting and resources to connect with one of the most creative film making communities in the world and seek out the brave new voice in horror. 
YouTube creators will have the opportunity to create original videos on terrifying cinematic sets inspired by Guillermo del Toro at YouTube Spaces in Los Angeles, London,Tokyo and New York, as part of a special global programming event on YouTube.
From September 22 – October 28, 2014, YouTube creators will write, shoot and edit their scariest videos at the YouTube Spaces. As well as appearing on individual creator channels, all content will appear on the YouTube Spaces channel, the official Legendary YouTube channel and promoted through social media platforms. Videos are slated to go live between October 21 and Halloween.
In celebration of his return to horror with the upcoming Crimson Peak, master of ceremonies, Guillermo del Toro, will select his scariest videos to come out of each region and provide a personal rough-cut creative consultation with the creators.
The program's finale will see Legendary offer one lucky YouTube creator a development deal to realize the full potential of their idea.
The effort is part of YouTube Spaces' tent-pole programming initiative that furthers the Spaces' mission to bring together the most creative people in the world around celebrated cultural events.