'Cymbeline' Trailer And Clip: Thou Art Poison To My Blood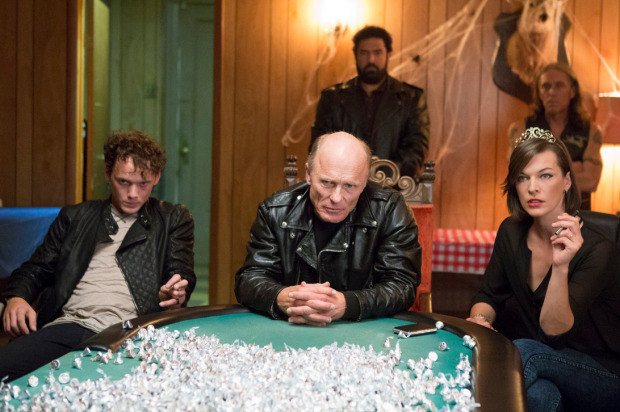 Michael Almereyda is the latest to tweak William Shakespeare's work to suit his purposes. Almereyda's Cymbeline sees him teaming one more with Ethan Hawke, who starred in the director's Hamlet in 2000. Cymbeline envisions the original text as "an epic battle between dirty cops and a drug dealing biker gang set in a corruption-riddled America." Ed Harris also stars, along with Milla Jovovich, John Leguizamo, Penn Badgley, Dakota Johnson and Anton Yelchin. Check out the new Cymbeline trailer below, along with a new clip.
Cymbeline premieres this week at the Venice Film Festival, and will hit the US in 2015. Trailer and clip via The Film Stage.
King Cymbeline, leader of the Briton Motorcycle Club, clashes with the corrupt Roman Police while his radiant but disobedient daughter Imogen fends off assaults on her honor and her life. Cymbeline's wife and her son aspire to take over the king's empire, and Imogen's marriage to Posthumus is undermined by sinister interference from Iachimo, a malevolent stranger. Shakespeare's timeless themes are love and betrayal, revenge and forgiveness, death and renewal.