Batman 4D Roller Coaster And Justice League: Battle For Metropolis Dark Ride Coming To Six Flags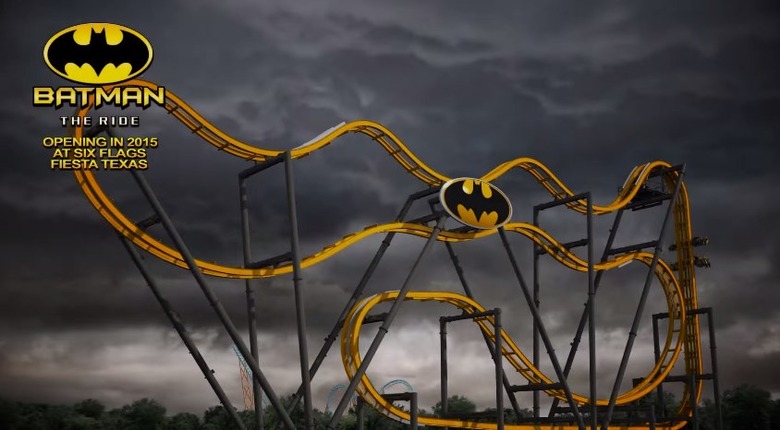 Six Flags has announced two new theme park attractions featuring DC Comic book superheroes: A Batman 4D Roller Coaster in Texas and an interactive dark ride attraction called Justice League: Battle for Metropolis which will open in two Texas and Missouri parks. Find out more information about both new attractions alone with teaser trailers for both rides, after the jump.
Batman 4D Roller Coaster
Six Flags Fiesta Texas has announced they will be adding Batman: The Ride, a 4D roller coaster to their San Antonio, Texas theme park. The coaster will rotate your seat 360-degrees as you travel along its tracks. The computer simulation shown in the trailer above is intense, I almost get sick just by watching it — not sure I could survive the real thing as awesome as it looks. Here is more information from the official press release:
After being lifted straight up a 120-foot hill, this 4D Wing Coaster challenges riders to "face their fears" as they flip head-over-heels at least six times along the weightless, tumbling journey. Along the way on this 4th dimension free-fly coaster, thrill seekers experience exhilarating coaster hills and unexpected drops along with an interactive ride experience. BATMAN™: The Ride allows adrenaline seekers to soar outside the confines of the track and fly like Batman. BATMAN™: The Ride features a massive, imposing, floating and twisting track frame, in which ride vehicles begin their journey by traveling up a 120-foot elevator-type lift before being released for their highly unusual sensory journey...including two beyond-vertical free falls, in addition to the six head-over-heels spins. Not only is BATMAN™: The Ride the most exciting thrill ride in Six Flags Fiesta Texas history, it is currently not available anywhere else on the planet. This attraction, based on the comic, will offer a total immersion into the Batman storyline with numerous special effects including the world-famous Batmobile and Bat-Signal.
They are calling it the "world's first 4D fly coaster". Batman: The Ride will feature beyond 90 degree drops and 6 flips. Here is more information about the attraction's features:
The world's first, one-of-a-kind onboard magnetic technology featuring six smooth head-over-heels free-fly flips providing guests the feeling of weightlessness as they soar outside the confines of a traditional track;
A 4D wing coaster that seats up to eight and has riders "face their fears" by allowing them to physically face each other as they tumble head-over-heels;
A 120-foot tall hill that is ascended by an elevator-style lift straight up;
Two beyond 90-degree raven drops giving the sensation of free-falling;
Five vehicles with eight passengers each;
A Bruce Wayne/Batman theme throughout the queue line featuring the Batmobile and Bat-Signal.
The ride is scheduled to open in Summer 2015.
Justice League: Battle for Metropolis
Meanwhile, at Six Flags Over Texas and Six Flags St. Louis will both introduce another DC Comics based attraction, an interactive dark ride called Justice League: Battle for Metropolis. Here is the info from the official press release:
Guests will become members of the JUSTICE LEAGUE Reserve Team, and engage in a full-sensory journey as they battle alongside SUPERMAN, BATMAN, WONDER WOMAN and GREEN LANTERN against Lex Luthor, The Joker and his henchmen. Traveling in six-passenger vehicles, riders must outsmart Lex Luthor and The Joker and save the city of Metropolis.
The St. Louis attraction will replace the Scooby-Doo Ghostblasters dark ride, while the Texas version is set to take over the former Adventure Theater. Here is more information about what we will find in the new dark ride:
An interactive queue line and loading area where guests will receive instructions, 3D glasses and a stun gun to stop the bad guys.
A storyline that unfolds with Lex Luthor and The Joker hacking into BATMAN's computer system and uncovering vital information that exposes vulnerability in the JUSTICE LEAGUE's defenses.
Riders will fight alongside SUPERMAN, BATMAN, WONDER WOMAN and GREEN LANTERN to save the world from being infected with The Joker's special laughing gas.
A nexus of new technologies to put guests right in the center of this interactive battle.
Lifelike animatronic super heroes designed by Sally Manufacturing, the industry leader in dark rides.
3D graphics and film produced by Pure Imagination, the gurus of Computer Generated Imagery.
Robust gaming elements by Alterface, renowned for their work in site-based interactive game play.
First-of-its-kind, fully programmable, multi-DOF (degree-of-freedom) vehicles that will transport guests through all the exciting twists and turns designed by Oceaneering.
Justice League: Battle for Metropolis is scheduled to open to the public at both parks in Spring 2015. I have to admit, I wish Six Flags could have teamed with Warner Bros to include the stars of the new film franchise in the new ride film, as the animation in the trailer is far from impressive.