'Boondock Saints 3' Has A Plot And A Title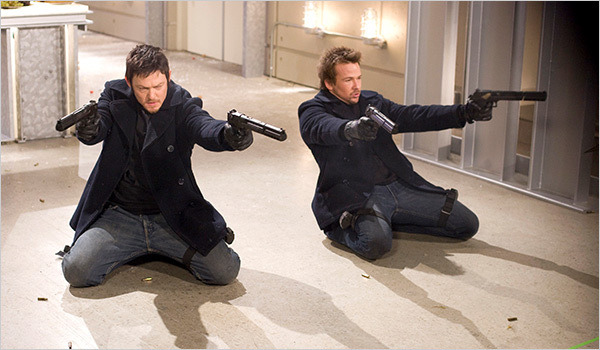 1999's The Boondock Saints overcame bad reviews and an even worse box office performance to become a cult hit anyway, but The Boondock Saints II: All Saints Day never achieved quite the same popularity as its predecessor. Put it this way: I've never heard a college kid declare the second Boondock Saints to be his favorite movie of all time.
Nevertheless, some fans have continued clamoring for a Boondock Saints 3, and director Troy Duffy has now offered some new details on what it'll be called and what it'll be about. Hit the jump for all Boondock Saints 3 plot details and more.
If you saw The Boondock Saints II: All Saints Day, you'll recall that it left off with the McManus brothers (Sean Patrick Flanery and Norman Reedus) in prison. In The Boondock Saints 3: Legion, we'll see that they've gained quite a bit of "notoriety" while behind bars.
The "Legion" part of the title apparently refers to the legions of people who, inspired by the McManus boys, decide to become vigilantes themselves. Additionally, The Boondock Saints 3: Legion will look back at the McManuses' beginnings, flashing back to their "very first crime."
Duffy readily admitted that he had only himself to blame for the long delay between the second and third films. "It's my fault," he said. "It's taken awhile... It's cause I want to get it right." However, it may take a while longer still, seeing as he didn't offer any estimates as to when Boondock Saints 3: Legion might hit theaters or even begin shooting.
As of 2013, Reedus and Flanery were still expected to return, even though the former said in 2012 that there "will not be a part 3" due to "creative differences."