Arcades In Movies: Steven Spielberg's Arcade Game Collection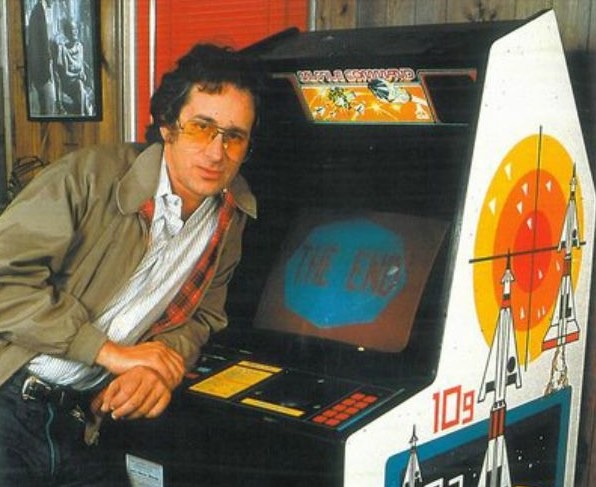 We may receive a commission on purchases made from links.
In honor of the news that Steven Spielberg will be directing a big screen adaptation of Ready Player One, here is our September 2014 posting about Spielberg's love for video games and specifically his 1980's arcade game collection.
An Arcades in Movies supercut has been posted online chronicling arcade games in cinema from the year 1975 to 1994. And to add something extra, I've included a gallery of photos of a young Steven Spielberg and his arcade collection from the 1980's as well as details on a forward the young filmmaker wrote in a book on arcade video games. Check out the Steven Spielberg arcade game collection photos and more, after the jump.
Arcades in Movies Supercut
The Arcade games in movies supercut was compiled by Huff Post, spans the years 1975-1994 and features the following list of films:
"Rancho Deluxe" (1975) "Jaws" (1975) "Jaws 2" (1978) "Sgt. Pepper's Lonely Hearts Club Band" (1978) "Dawn of the Dead" (1978) "Midnight Madness" (1980) "Bustin' Loose" (1981) "Death Wish II" (1982) "Rocky III" (1982) "Tron" (1982) "Fast Times at Ridgemont High" (1982) "Jekyll and Hyde... Together Again" (1982) "The Toy" (1982) "Joysticks" (1983) "WarGames" (1983) "Twilight Zone: The Movie" (1983) "Strange Brew" (1983) "Nightmares" [segment 'Bishop of Battle'] (1983) "Never Say Never Again" (1983) "High School U.S.A." (1983) "Rumble Fish" (1983) "Footloose" (1984) "Star Trek III: The Search for Spock" (1984) "Ghostbusters" (1984) "Gremlins" (1984) "The Karate Kid" (1984) "The Last Starfighter" (1984) "The Philadelphia Experiment" (1984) "The Adventures of Buckaroo Banzai Across the 8th Dimension" (1984) "Ninja III: The Domination" (1984) "Night of the Comet" (1984) "The Last Dragon" (1985) "Code of Silence" (1985) "The Goonies" (1985) "Real Genius" (1985) "Ferris Bueller's Day Off" (1986) "Maximum Overdrive" (1986) "The Color of Money" (1986) "Something Wild" (1986) "Over the Top" (1987) "Can't Buy Me Love" (1987) "Best Seller" (1987) "Death Wish 4: The Crackdown" (1987) "Bloodsport" (1988) "Big" (1988) "Parenthood" (1989) "Back to the Future Part II" (1989) "The Wizard" (1989) "Teenage Mutant Ninja Turtles" (1990) "RoboCop 2" (1990) "Terminator 2: Judgment Day" (1991) "Suburban Commando" (1991) "Juice" (1992) "Encino Man" (1992) "Honeymoon in Vegas" (1992) "Roadside Prophets" (1992) "Toys" (1992) "Double Dragon" (1994)
Steven Spielberg Arcade Game Collection
And just for fun, here is some photos of a young Steven Spielberg with his Arcade Game collection: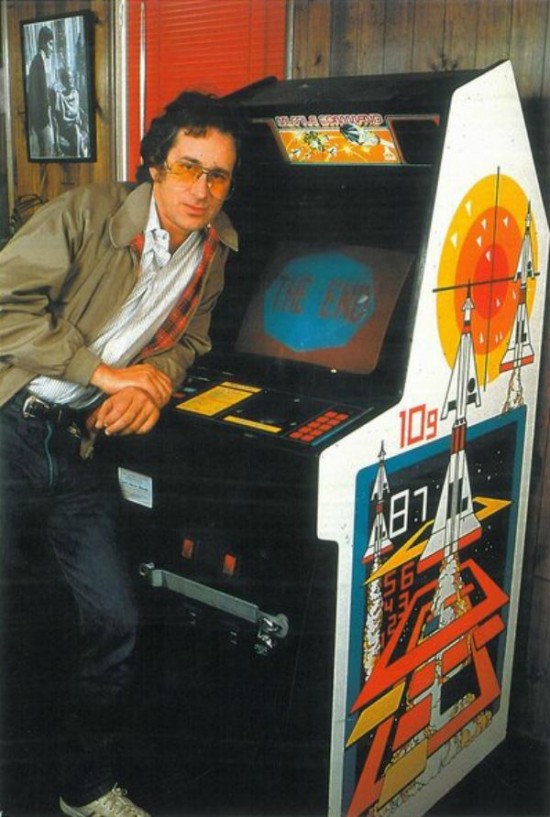 Take note of the framed image seen over his shoulder in this image of Spielberg with his Missile Command arcade machine: The photo features a 21-year-old Spielberg directing legend Joan Crawford for the tv series pilot Night Gallery, his first professional project.
"Upon first meeting Steven Spielberg, Joan Crawford was less than impressed. She called Sid Sheinberg, then head of Universal Television, and told him to replace Spielberg with a better director or she would quit the series. Sheinberg told her in no uncertain terms that the studio would back Spielberg over her, as she had not acted on television in years and was at the time the Chairman of Pepsi-Cola, and Universal was confident in Spielberg's abilities. She subsequently treated him with the utmost respect, and the two continued to correspond until her death."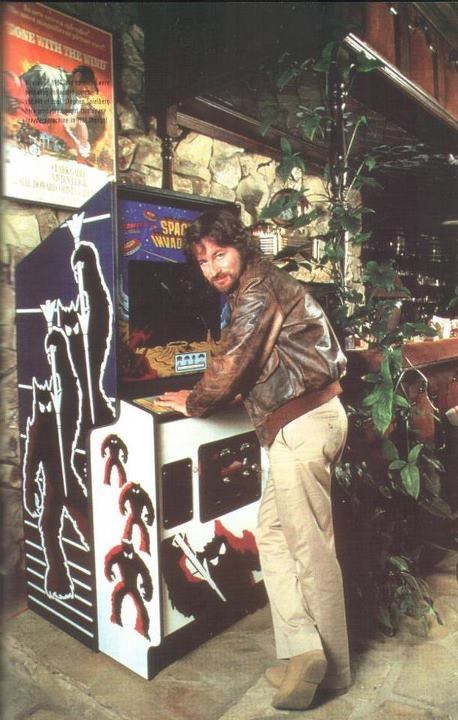 Spielberg posing in a very Indiana Jones-style look in front of his Space Invaders arcade machine.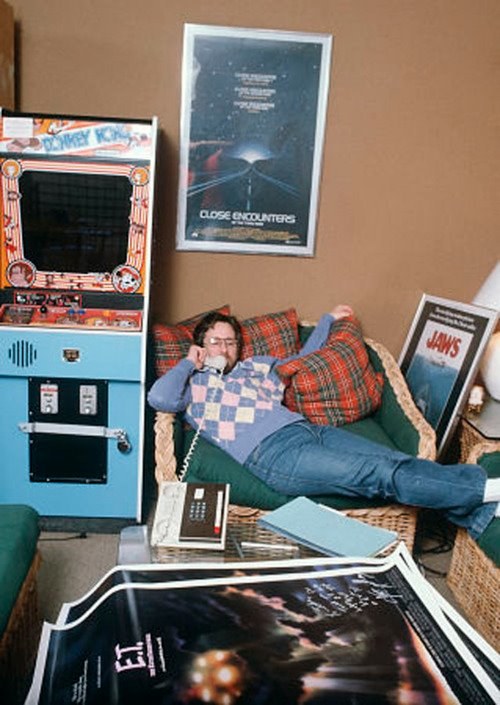 Steven Spielberg hard at work next to his Donkey Kong arcade machine around the release of ET.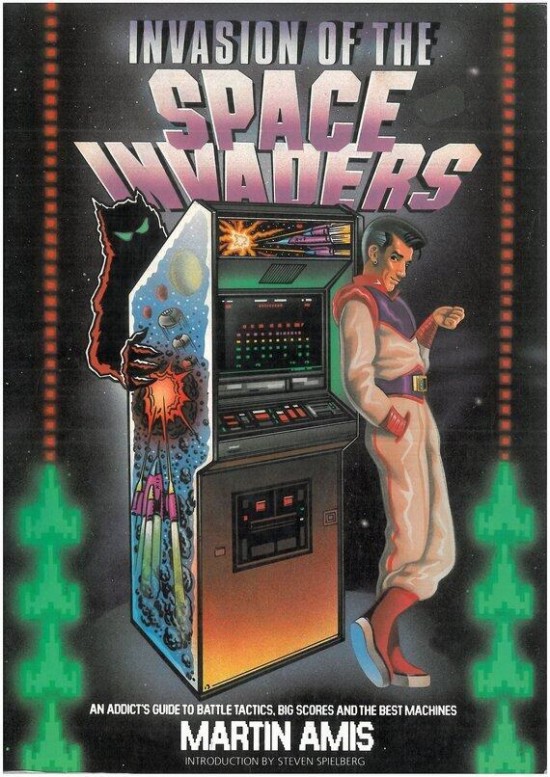 And here is a bit of trivia you probably didn't know, Steven Spielberg wrote an introduction to Martin Amis' 1982 book on arcade gaming titled Invasion of the Space Invaders: An Addict's Guide to Battle Tactics, Big Scores and the Best Machines. Spielberg is quoted on the book saying "read this book and learn from young Martin's horrific odyssey round the world's arcades before you too become a video-junkie". Unfortunately, the book is long out of print (going for a couple hundred dollars on the collectible market) and no copy of the introduction exists online (as far as I can search out).
Also notable: Spielberg was also a part owner of GameWorks, a "high-tech arcade, restaurant/coffeehouse/bar and Internet lounge" chain which opened up in the mid 1990's. The joint venture between Sega, Universal Studios, and DreamWorks SKG was not successful and the company filed for bankruptcy in 2004. Seven GameWorks venues remain throughout the US, owned by another company which acquired the assets in its 2005 liquidation.
via: refocusedmedia