'Dracula Untold' International Trailer: Fact And Fiction Blend In A Horror Origin Story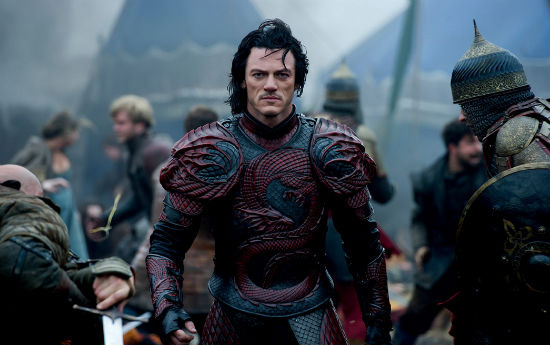 Universal Pictures is getting ready to reboot all of their Universal Monsters. The last film not part of this new era is Dracula Untold, a standalone blend of fact and fiction that becomes a pseudo-Dracula origin story. Luke Evans (Fast and Furious 6, The Hobbit) is Prince Vlad of Transylvania, a just ruler who leads a peaceful life with his family. That changes when his country is invaded by a seemingly unbeatable enemy, leading Vlad to make the ultimate sacrifice to save his people. Vlad himself was a real person and the inspiration for Dracula. Whether or not he actually became a vampire named Dracula is probably less true.
Directed by Gary Shore, Dracula Untold opens October 17. Check out the latest Dracula Untold trailer, this one from Japan, below.
Thanks to First Showing for the heads up.
More than the others we've seen, this trailer sells Dracula Untold pretty well. It keeps things focused on the story with only a little of the huge effects and battles that eventually happen. That's because this trailer is shorter than the U.S. trailer which shows much more and has inspired less confidence. The longer trailers make the film look like it's all about these effects and if that's the case, this won't be a movie that many people are turned on to.
I can't say I'm looking forward to Dracula Untold, but it's one of only three horror movies hitting theaters this Halloween. That could bode well. Neither of the others – The Conjuring spinoff Annabelle and the begging-to-be-hidden Ouija – have any more or less name recognition of a Dracula movie. It basically is going to come down to whether or not Shore made a good movie, or just a good-looking movie?
Can you tell from this latest Dracula Untold trailer?
Luke Evans (Fast & Furious 6, Immortals) stars in Dracula Untold, the origin story of the man who became Dracula. Gary Shore directs and Michael De Luca produces the epic action-adventure that co-stars Sarah Gadon, Dominic Cooper, and Diarmaid Murtagh.