Big Hero 6 Behind The Scenes: Learn About The Making Of Disney Animation's First Marvel Movie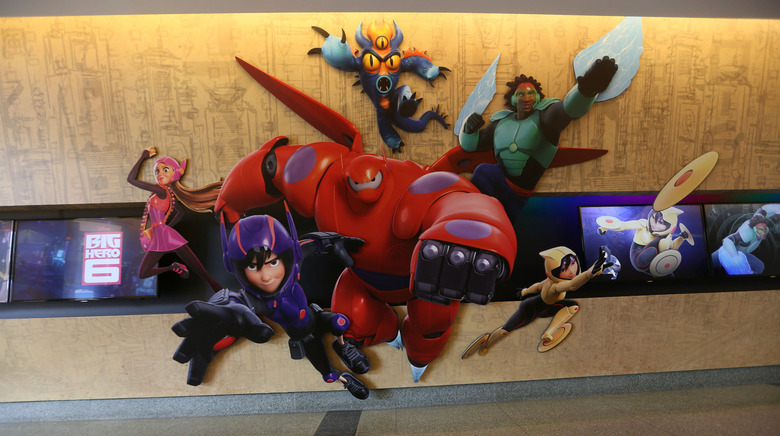 The best Disney animated films suck you into their world. You lock in and follow the characters on a journey without ever thinking of what went into it. That's the magic not only of Disney, but film in general.
What sets animation apart is the absolutely insane detail and years of work that go into each film. Near decades can pass in which stories are written, ripped apart and written again. Tens of thousands of miles are travelled to research the tiniest visual elements. Millions and millions of animated frames, passed between departments, all come together until you have something like Big Hero 6.
Earlier this summer, a group of journalists was invited to Disney Animation Studios in Burbank, CA to learn about the impressive process that went into their latest film. Big Hero 6 is based on, but not linked to, a Marvel comic book of the same name. That makes it the first Disney animated Marvel movie. While the comic and film share very little in common two things they do share are the focus on action and emotion.
In Big Hero 6, a young boy and a soft robot team up with a group of friends to become a superhero team. Over the course of several hours, we were taken around the studio to watch footage, learn about the design of the film, the writing process, animation and much more. Below, we'll take you on that tour with us – complete with lots of photos – so you can learn all about what Disney has in store come November 7. And, most importantly, how much work went into it.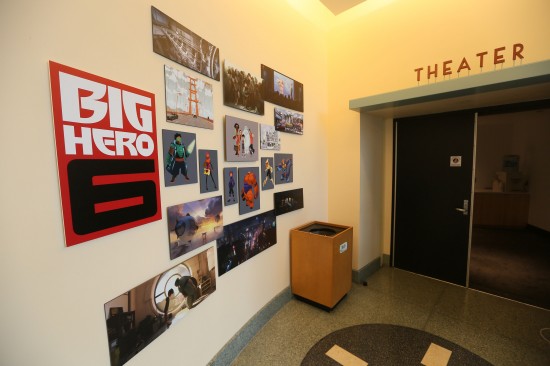 Big Hero 6 Behind the Scenes: Introduction and Footage
As the day began, the directors of Big Hero 6, Don Hall and Chris Williams, took everyone through the story to set up some footage. The star of the film is a young boy named Hiro, a genius who graduated high school at 13. He's an inventor but unsure what he wants to do with his life. Does he follow his brother Tadashi into college? Or does he bum around building fighter robots? That decision becomes pretty clear when Hiro debuts his latest invention, Microbots, at a science fair. The invention – a small robot that can be combined with millions of identical ones into anything your mind desires – wows the crowd and energizes Hiro. But something terrible happens, setting up a very different story.
Soon Hiro meets Baymax, a health robot invented by Tadashi and his college friends. Baymax senses Hiro is hurt and everything he does with him after – investigate the terrible event, eventually becoming a superhero – are to help Hiro get better. Everything is in service of Hiro's mental health and well-being, and that's one of the biggest through lines in the film.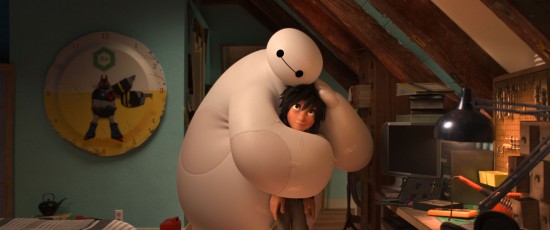 To set up the day, Disney screened footage of the science fair, footage of the terrible disaster, the aftermath – which includes the introduction of Baymax (which you can see some of here) – Baymax and Hiro investigating the whereabouts of Hiro's Microbots and finally the first time Hiro and Baymax take flight over the city of San Fransokyo, a beautiful blend of San Francisco and Tokyo that simultaneously looks like both cities and neither. All of the footage revealed this is a movie much more interested in characters and relationships than big action sequences. The interactions between Baymax and Hiro are everything, which meant getting their looks right was essential.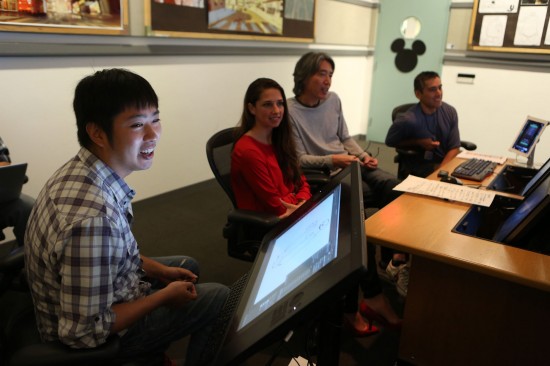 Big Hero 6 Behind the Scenes: Production Design
Those looks were made by the design team, which included Production designer Paul Felix, character design supervisor Jin Kim, visual development artist Lorelay Bove and lead character designer Shiyoon Kim. This team was tasked with not only designing the look at feel of San Fransokyo, but all of the characters as well.
For San Fransokyo, the team went to two places in particular – you guessed it – Tokyo and San Francisco. They tried to hone in on and combine what made each city so unique. In Toyko it was the advertising, signs and architecture. In San Francisco, it was the layout and lighting. Buildings in each city were also ported over to the film so it would feel like a combination of both cities.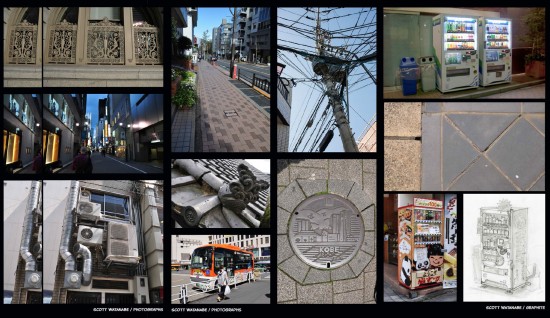 While Hiro and the rest of the human characters were obvioulsy important, they're still humans. Each person's design, and subsequent superhero costume, was created to reflect their different influences and attitudes. The real challenge was Baymax and inspiration for his design was found in two places: Japan and Carnagie Melon University.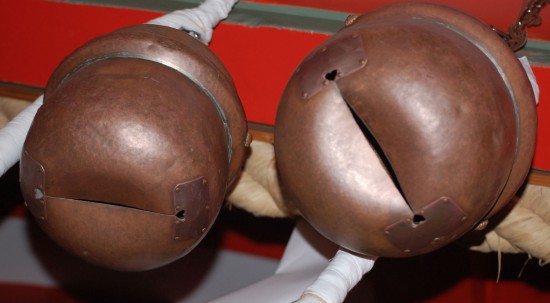 In Japan, designers were inspired by the look of the above bells, which combined two dots with one line. A simple, but evocative facial experssion that would eventually become Baymax. As for his body, they learned about "soft robotics" at Carnagie Melon University and that's what gave them the confidence to make a robot that's versatile and pleasing to the eye, as well as lovable and huggable. Here are some images of "soft robotics."
Big Hero 6 Behind the Scenes: The Story
At Disney, story is everything. And the people primarily responsible for this story are head of story Paul Briggs and screenwriter Robert L Baird. These are the men who spent a good five years creative a story for Big Hero 6, presenting that story, having it torn down and redoing it over and over again until you have what ends up on screen.
The pair liken the writing process to the collaborative nature of television where a group of people – the story department, the directors, producers etc. – sit in a room and throw out ideas. Once a story is complete, it gets storyboarded and a screening is held for Disney employees. This is years before the movie hits theaters. Briggs assured us that the first screening is a disaster every time and sometimes literally only one or two elements, let alone scenes/dialogue/etc., remain. So it's back to the drawing board. One scene might have 20 different versions with only the slightest variations.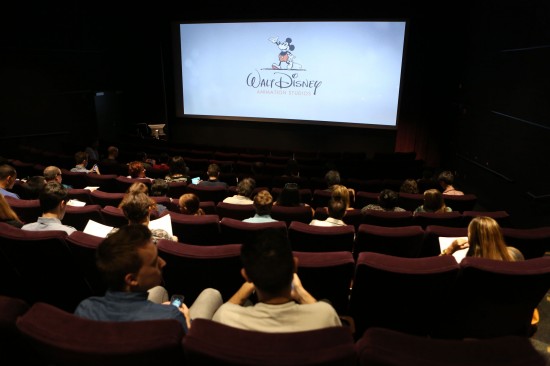 This process continues for the first four to five years of film's production and maybe 9 or 10 screenings. Yes, that means Big Hero 6 has been in some kind of development for a long time. Of that first four to five years, two thirds of the production focuses on story. As elements of the story begin to take shape, and other films (Wreck It Ralph, Frozen, etc) finish their work, other departments jump on. Basically, the film is screened every few months for the first two and a half years. They don't stop writing, honing and tweaking until a few months before the film hits theaters.
I spoke one on one with Briggs and Baird, and you can read that full exchange in the coming weeks.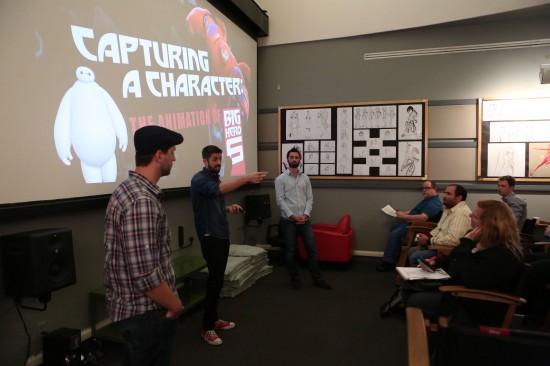 Big Hero 6 Behind the Scenes: Animation
Next up on our tour, head of animation Zach Parrish, animation supervisors Nathan Englehardt and Michael Franceschi as well as lead 2D animation Mark Henn took us through the animation on the film. They're responsible for overseeing 85 of the animators working on the movie and said they consider themselves to be the actors, stuntpeople and extras all rolled into one. That's a hefty task on a film like this.
So just how big is Big Hero 6? It has the largest cast of characters ever in a Disney animated film. Where a usual film has 2-3 main characters with a handful of secondary characters, this film has 16 main characters. The six main characters in the normal outfits, the same six characters in their superhero outfits, Hiro's aunt, brother, the villain and one more, all seen below.

Then the film takes place in a populated city, so the animators had use a software called Denizen to create other people. In Big Hero 6 there are 701 unique background characters created by the software, each with over 1000 animation cycles. That means there are hundreds of thousands of possible animation combinations used to populate each scene.
Big Hero 6 also has the most action sequences they've had in a Disney animation movie – seven total. Combine that with all the human emotion the film will hope to convey, and the film has been a gargantuan task for the animators.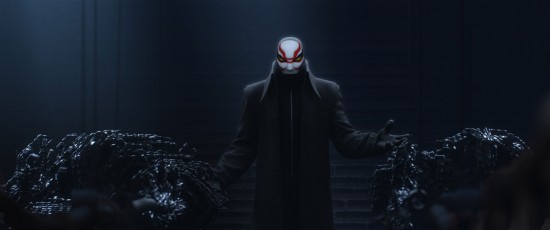 Big Hero 6 Behind the Scenes: Visual Effects
I know what you're thinking, why does an animated film need visual effects? Well, it's quite simple. Animatiors focus only character animation. The effects team, which includes head of effects Michael Kaschalk, visual effects supervisor Kyle Odermatt and effects production supervisor Nathan Curtis, focus on the stuff around them. They describe it as anything elemental or magic. So if there's fire or water, visual effects does that. An interactive environment, that's visual effects. And if there's a small robot called a microbot that can combines with millions of others to make huge strucutures, they do that too.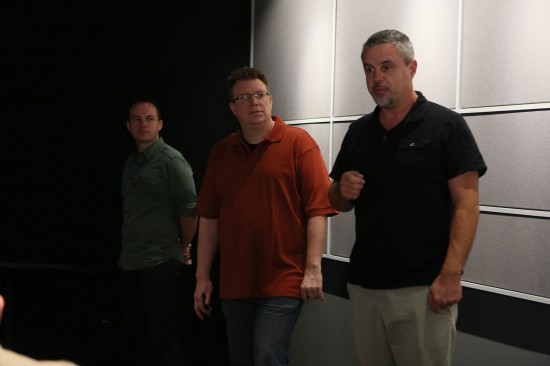 While the effects team on Big Hero 6 did lots of work in all areas, it was the microbots that took up most of their time. These tiny elements had to look sleek, have cooperative behavior like ants and combine in a way that makes both those things work in tandem. How do they hold together? How do they move? That was all on the visual effects team. In the end they settled on a simple, versatile design of a circle with two long triangles on the end that could move up down and all around to combine with others to form anything. At certain times in the film there are literally 20 million microbots in a single shot. So it's a pretty big deal.
Among the other elements the effects team worked on are the super powers of each of the characters. The one in particular that caught my eye was the purse of a character named Honey Lemon. She's a master chemist and her superpower is that she has a purse that, with the push of a few buttons, she can create a potion or gas for any situation. But how would that work in such a small space? That's the kind of problem solving visual effects has to do.
Also of note, visual effect animation is growing in leaps and bounds. On Tangled, there were 13 effects animators. On Big Hero 6, there were 40.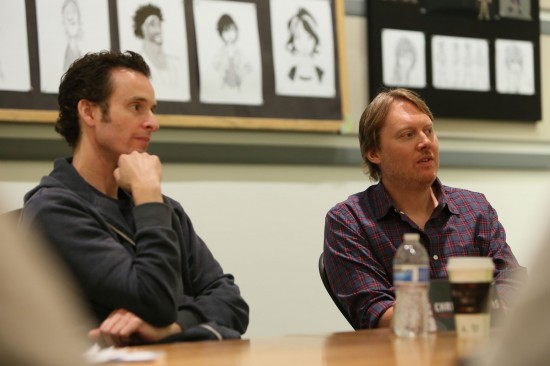 Big Hero 6 Behind the Scenes: Directors and Producer
The final stop on our tour was a chat with directors Don Hall and Chris Williams as well as producer Roy Conli. I got an exclusive 1:2 interview with the directors later in the day, so check back for that, but here are some highlights that I didn't talk about in that interview.
Hall was asked by John Lasseter to start looking at Marvel Comics for a Disney animation movie and the title Big Hero 6 roped him in. He liked the idea of the tone, the core relationship of a boy and his robot and its grounding in pop culture. Marvel then encouraged Hall to take the property and do whatever he wanted with it. He was allowed to make it his own, which was pretty liberating for the whole team. Marvel did, however, keep an eye on the film throughout development and president Joe Queseda regularly showed up at the aforementioned screenings to give feedback.
They describe the result as a very specific origin story with two thirds of the movie being the characters and team finding their way and learning their roles. However, don't bet that a sequel will happen. While Hall and Williams said they'd be open to it, they haven't thought about it at all and the story would have to be just as good, if not better, than this for Disney to move forward.

The cast was a big talking point too. It includes Jamie Chung, Genesis Rodriguez, Damon Wayans Jr., T.J. Miller ,Alan Tudyk, Maya Rudolph and James Cromwell among others in what is a very multicultural cast both on screen and behind it. That was the idea from day one. This would be a team that everyone could relate to.
Also, the casting becomes a big part of the story process because they're brought in about halfway through production. That means lots of little changes and ad libs can be made depending on what each individual actor brings to the role.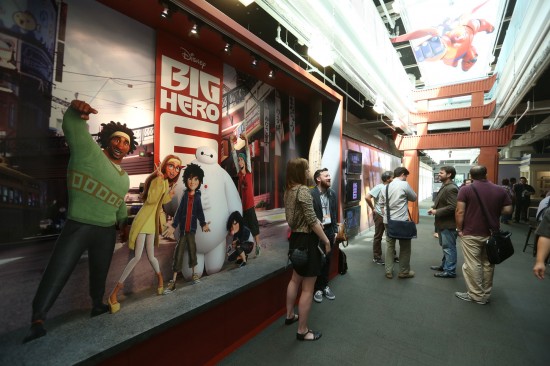 Big Hero 6 Behind the Scenes: Conclusion
A visit to Disney Animation is always special, but it's even cooler when it's for their first foray into Marvel superheroes. Below, we've included a few other images from the building to give you a sense of the day. And check back in the coming weeks for our exclusives interviews with the writers and directors.
Big Hero 6 opens November 7.