Michael Bay Hires Writer For Futuristic Car Film 'Cosmic Motors;' See Photos From The Book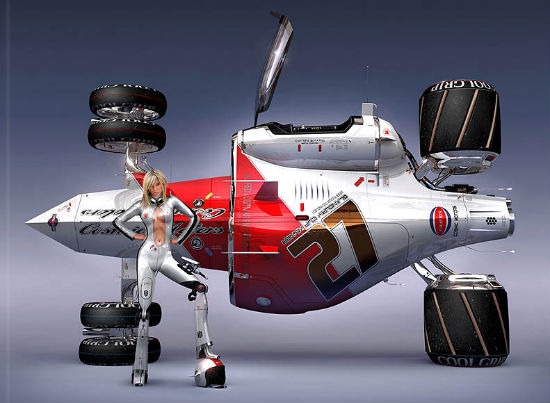 Michael Bay has made a career of making cars look cool on screen, and he's hoping to continue that trend. He's on board to produce a film for Warner Bros. called Cosmic Motors, based on a book of futuristic designs by Daniel Simon.
Simon, who has been a designer, for vehicles in particular, on films like Prometheus, Oblivion, Tron Legacy and Captain America: The First Avenger, released the book in 2007. In it, he creates a far away sci-fi universe through vehicles. Each chapter tells a story of the design and purpose of a futuristic, awesome looking car/hovercraft/motorcycle. We've got a gallery of examples below.
Now, Bay and Warner Bros. have hired writer Kyle Ward to adapt the book into a screenplay. Read more about the Cosmic Motors movie, and the book below including a bunch of new photos.
broke the news of Ward signing onto the film. He's currently writing a film called Arabian Knights for Universal but also did the new
and last year's
Machete Kills.The official site for
Cosmic Motors has a ton of information on the book and world of the book. It's all most too much to handle in one sitting. But, here's a description which could give us a broad idea of the world a narrative film will inhabit:
Come explore the vehicle designs of a far away galaxy called Galaxion where futuristic concepts exist in everyday life. Nine different spaceships, pods, race cars, giant trains, warships and balloons from various planets of the Galaxion system are shown from concept to completion. Daniel Simon is an established senior car designer who has spent the last several years focusing his talents on futuristic concepts for such automakers as Bugatti and Lamborghini. In his first book, Cosmic Motors, each chapter shows the design process of a unique vehicle, from the first ideation sketches to the stunningly detailed 3-D models to the final photo-realistic full spread renderings. Join Daniel in this virtual world of visionary vehicles!
And here are just some of the images from the book/website to provide an idea of what the movie may look like. I have to say, these are simply gorgeous and there are
.
Do you think the idea of basing a movie on a design book is a good idea? Will you see a Cosmic Motors movie?