'Shaun The Sheep' Teaser: Aardman Animation's Kids Show Hits The Big Screen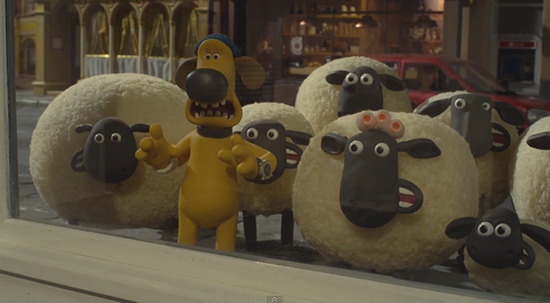 Nick Park created Shaun the Sheep for his Wallace and Gromit shorts, and the character was originally seen in A Close Shave. Since then, Shaun has gone on to star in over 100 short episodes of his own Aardman Animation stop-motion animated television show. Now he's got his own movie, written and directed by Mark Burton (Madagascar and Gnomeo & Juliet writer) and Richard Starzack. We don't know what plans exist for a US release of the film, but Aardman fans should check out the Shaun the Sheep teaser trailer below.
Shaun the Sheep: The Movie is currently in Production at Aardman Studios in Bristol and will open in UK Cinemas on February 6 2015. Trailer via YouTube.
From Aardman, the creators of Wallace & Gromit and Chicken Run, SHAUN THE SHEEP THE MOVIE is coming to cinemas worldwide from Spring 2015! Watch the new teaser trailer to see Shaun and The Flock on their hilarious adventure in the Big City! When SHAUN decides to take the day off and have some fun, he gets a little more action than he bargained for! SHAUN's mischief inadvertently leads to The Farmer being taken away from the farm, to the Big City...
Join SHAUN, Bitzer and The Flock on their hilarious, action-packed, big screen adventure as they make plans to rescue the missing Farmer. A story about how we sometimes forget to appreciate the things we have in life, and the people who love us. SHAUN THE SHEEP THE MOVIE introduces us to two new Aardman characters; TRUMPER, the animal warden who rules the city's animal shelter with a rod of iron and SLIP, an inner city orphan dog who helps SHAUN save the day.