HBO To Air New Banksy Documentary 'Banksy Does New York'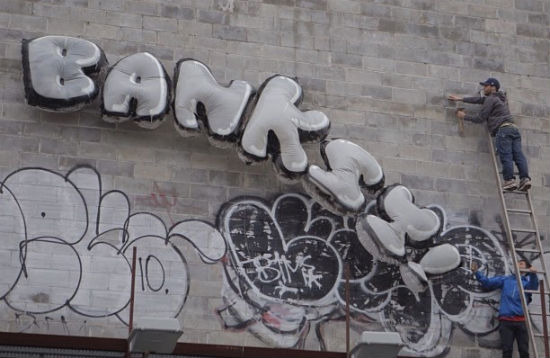 Last year, the city of New York went nuts with Banksy fever. The famous, anonymous, Oscar-nominated British artist claimed residence in the city and put up a new piece of art every single day. It became a cultural phenomenon with people rushing all over the city to see the art and react. Some locals stole art, other defaced it and some even charged to view it. The whole thing became an incredibly interesting commentary on art as well as humanity.
Though Banksy himself did release a short film about the entire experience, now HBO is going to air a film of their own. Filmmaker Chris Moukarbel has crowd-sourced footage from people who saw the art first hand and made a documentary about it called Banksy Does New York. It'll air on November 17. Read more about the Banksy HBO documentary below.
News of the Banksy HBO documentary showed up on The Hollywood Reporter. If you want to look at an official retrospective, here's the Instagram account. Here's what the president of HBO documentaries, Shelia Nevens, said about the film:
From the moment Banksy took over the streets, New Yorkers became obsessed. The film captures this month of madness created by user-gererated footage.
For a hint of what to expect, check out this recap of the event that was potentially posted, but at least endorsed, by Banksy. This is an unrelated film on the same topic.
Each piece that Banksy put up over the month had different messages, many of which were exposed by the public's reaction to the message. For example, the balloon pictured at the top (courtesy of Melrose and Fairfax) got a bunch of people arrested when they tried to steal it. Another painting got covered up by locals and they charged people $20 to see it. But my favorite, by far, is this video. Banksy set up a stand in Central Park selling 100% authentic paintings, each valued around six figures. However, there was no fan fare. The art just had to stand on its own. Here's the result.
Watch more videos from the exhibit here on the official YouTube.
I can't wait to see how the HBO Banksy documentary spins this momentous event. Will you be watching?