'American Horror Story: Freak Show' Poster And Teasers: We Are All Freaks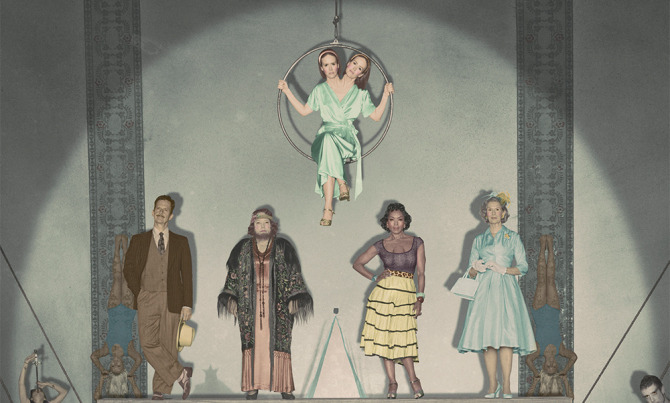 American Horror Story: Coven went off the rails somewhat, but the great thing about Ryan Murphy's FX anthology horror series is that each season is a fresh start. The next season, American Horror Story: Freak Show, will see many of the same cast and crew heading to 1950s Florida, where a "dark entity" emerges.
While Murphy isn't as secretive as some of his fellow showrunners, he hasn't said that much about where the new run of episodes might take us. So it's exciting to get our first glimpse at the cast in costume, including Jessica Lange, Kathy Bates, Michael Chiklis, and so many more. See the new American Horror Story Freak Show poster and teasers after the jump.
Though the tone, setting, characters, and storyline are all new, Murphy said American Horror Story: Freak Show does tie in with some of the same themes laid out in earlier seasons.
At every freak show, you have the tropes but there's some [that are] unique and weird. It's about something: It's about outcasts and how society at that time ... true stories about circus performers who were cast aside. The story in many ways dovetails with Asylum, because they leave one era and you can see many of them in real life were put into asylums. There's a great symmetry we've come up with that's rewarding.
Here are the latest American Horror Story: Freak Show teasers, titled "Caged" and "Spotlight," respectively.
And here are the two released previously.
Determined fans may find a clue or two in the teasers, but since they don't include any actual footage from the show they're more about setting a mood than anything else. On that front, they do a fantastic job.
Much more revealing is the new American Horror Story Freak Show poster. In contrast to the dark imagery of seasons past, this one is filled with faded pastels. Nevertheless, Murphy promises the new season will be "darker than Coven."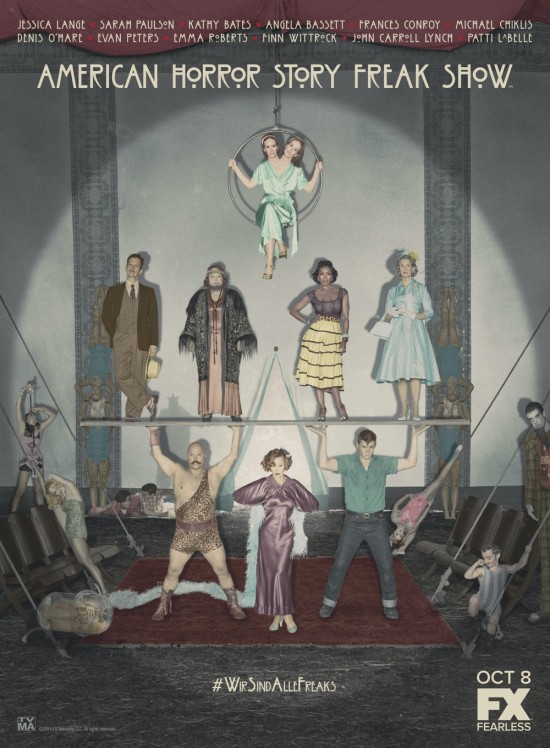 Working from top to bottom and left to right, we have Sarah Paulson as Bette and Dot Tattler, Denis O'Hare in an unnamed role, Kathy Bates as bearded lady Effil Darling, Angela Basset three-breasted woman Desiree Dupree, Frances Conroy in another unnamed role, Michael Chiklis as strongman Wendell Del Toredo, Jessica Lange as freak show manager Elsa Mars, and Evan Peters as Effil's son Jimmy.
Not everyone here has an obvious physical deformity, but we'll surely find out what makes them freakish on the inside. After all, the hashtag #WirSindAlleFreaks translates to "we are all freaks."
American Horror Story: Freak Show open its curtains Wednesday, October 8 at 10 PM on FX. Other stars include Emma Roberts, Gabourey Sidibe, Wes Bentley, John Carroll Lynch, Finn Wittrock, Jyoti Amge. Patti LaBelle and Matt Bomer are expected to guest star.
American Horror Story: Freak Show' begins its tale in the quiet, sleepy hamlet of Jupiter, Florida. The year is 1952. A troupe of curiosities has just arrived to town, coinciding with the strange emergence of a dark entity that savagely threatens the lives of townsfolk and freaks alike. This is the story of the performers and their desperate journey of survival amidst the dying world of the American carny experience.