'Seventh Son' Trailer: Jeff Bridges' Medieval Fantasy Is Finally Coming To Theaters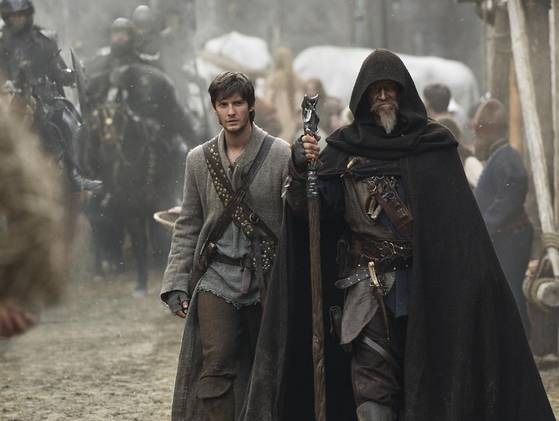 Seventh Son has been coming for so long at this point, it's almost surprising to realize it hasn't actually arrived yet. But it will be here soon. Universal and Legendary have the fantasy adventure slated for release early next year, and today the first Seventh Son trailer has finally surfaced.
Directed by Sergey Bodrov, Seventh Son chronicles an ancient battle between mankind and supernatural forces. On one side are Master Gregory (Jeff Bridges) and his new apprentice Tom Ward (Ben Barnes), on the other is the powerful witch Mother Malkin (Julianne Moore). Watch the Seventh Son trailer after the jump.
Unfortunately, after all that time, the Seventh Son trailer doesn't make a strong case for the film being worth the wait. More than anything, this promo looks generic. The medieval fantasy setting feels overly familiar, Barnes barely makes an impression, and Bridges seems oddly miscast. Moore's Malkin looks like a cut-rate version of Angelina Jolie's Maleficent — even though Moore shot her role first. But sometimes dull trailers turn out to be hiding great films, so we'll refrain from rushing to judgment right now.
Seventh Son went into production all the way back in 2012, and was originally slated to open in February 2013. Then it got pushed to October 2013. Then January 2014. Then it got caught up in the split between Warner Bros. and Legendary. As of now, it's set to premiere on February 6, 2015, about three years after it started shooting. On the bright side, at least it'll be in IMAX when it finally debuts.
In a time of enchantments when legends and magic collide, the sole remaining warrior of a mystical order (Oscar® winner Jeff Bridges) travels to find a prophesized hero born with incredible powers, the last Seventh Son (Ben Barnes). Torn from his quiet life as a farmhand, the unlikely young hero embarks on a daring adventure with his battle-hardened mentor to vanquish a dark queen (Julianne Moore) and the army of supernatural assassins she has dispatched against their kingdom.