'Rosewater' Trailer: Jon Stewart Directs A True Story Of Insane Interrogation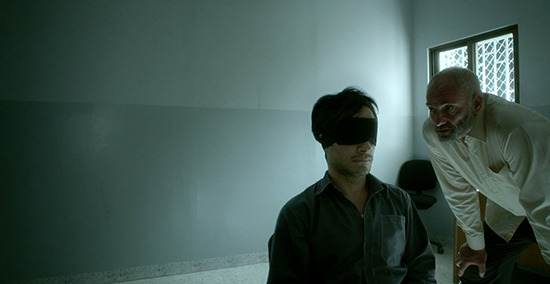 Jon Stewart of The Daily Show writes and directs Rosewater, which tells the story of Iranian-born Canadian journalist Maziar Bahari, who was arrested for espionage while covering the Iranian elections in 2009. He was held for 118 days, during which Bahari persistently interrogated by a man who had "proof" of Bahari's bad intentions via the journalist's Facebook page and, oddly, an appearance on The Daily Show. Gael García Bernal plays Bahari in the film, which just premiered at the Venice Film Festival and is headed to Telluride and Toronto before a November opening. The first Rosewater trailer is below, along with excerpts from the first reviews out of Venice.Indiewire noted that Stewart's "directorial debut "Rosewater" magnifies another tendency lurking beneath the jokes: a sincere desire to demystify international problems and celebrate efforts to solve them." The site dings the film for " underwritten screenplay and several misconceived narrative devices," but says "it's also so committed to a good-natured attitude about the power of perseverance that the many shortcomings register as inoffensively well-intentioned rather than exclusively shallow"THR calls the film "emotionally accessible but very modest," expanding to say "the way the story unfolds, there really isn't a message per se other than a general one about not giving up hope; the political and personal lessons here don't seem particularly profound or instructive."Variety says "The punishing ordeal of Iranian journalist Maziar Bahari — imprisoned for 118 days on charges of espionage — is brought to the screen with impressive tact and intelligence by writer-director Jon Stewart in "Rosewater," an alternately somber and darkly funny drama that may occupy the same geographic terrain as "Argo" (to which it will inevitably be compared), but in most other respects could hardly be more different."Rosewater opens on November 7. Apple has the trailer.
Rosewater is based on the best-selling memoir by Maziar Bahari. The film is the directorial debut of Jon Stewart, and stars Gael García Bernal. Rosewater follows the Tehran-born Bahari, a journalist with Canadian citizenship. In June 2009, Bahari returned to Iran to interview Mir-Hossein Mousavi, who was the challenger to president Mahmoud Ahmadinejad. As Mousavi's supporters protested Ahmadinejad's victory declaration hours before the polls closed, Bahari endured personal risk by sending footage of the street riots to the BBC. Bahari was arrested by police, led by a man identifying himself as "Rosewater," who tortured and interrogated him over the next 118 days. With Bahari's wife leading an international campaign to have her husband freed, and media outlets keeping the story alive, Iranian authorities released Bahari on bail and the promise he would act as a spy for the government.