Fantastic Fest 2014 Announces Films From Studio Ghibli And Sion Sono, And Closing Feature 'Nightcrawler'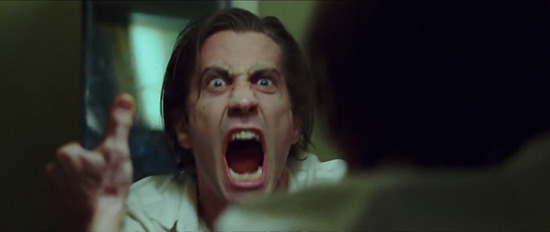 This year is the tenth anniversary of Fantastic Fest, and the fest will close with a movie we've been anticipating over the past couple months: Nightcrawler, starring Jake Gyllenhaal as a seedy news reported in Los Angeles. That film was announced today along with a host of other movies, including the new Keanu Reeves film John Wick, for which Reeves will make his second appearance at the fest. Then there's The Creeping Garden, a documentary about slime molds and the people who study them; neo-giallo thriller The Editor, and new Studio Ghibli movie The Tale of the Princess Kaguya, and Sion Sono's new film Tokyo Tribe.
The full second wave lineup is below. I've added trailers for most of the films. Note that I haven't watched all those trailers in full yet, and there's a chance that one or two are not safe for work. 
In addition to the movie lineup, Fantastic Fest announces the following:
Fantastic Debates will pack a serious punch this year. Fantastic Fest's long-running showcase of verbal/physical combat is being amped up by a call to battle from Matt Mason Chief Content Officer for BitTorrent, Inc. Mason is placing an open call to all fighters to tackle the debate of whether BitTorrent.com is a valuable tool for creative artists or a playground for theft. In addition to the torrent debate, there will be a full undercard settling a range of topics with right hooks and sharp tongues alike.  Check out Matt Mason's pre-fight video HERE and if you would like to fight Matt in the Debates, you can submit your challenge to fantasticfest.com/fight for more info.
"This is the first Fantastic Debate in which we have a debater / fighter issuing an open challenge to anyone willing to step into the ring. It's a bold move and one I'm happy not to take on: Matt Mason can fight," said Tim League, CEO / Founder of Alamo Drafthouse & Fantastic Fest. "On the film front, we're really excited to bring Keanu back and welcome Dan Gilroy to Fantastic Fest for the first time with his stunning directorial debut."
Fantastic Fest also marks an important milestone for the Alamo Drafthouse theater chain with the grand reopening of its flagship destination at South Lamar and the all-new Highball. Under construction for the past two years, the new theaters boast three new screens (9 total), and completely rebuilt Highball bar, and 7 custom-designed karaoke rooms that are sure to melt the mind.
And now the films.
ABSENT ONE, THE
Denmark, 2014
World Premiere, 119 min
Director – Mikkel Nørgaard
Police investigators dig into the facts of a twenty year old double homicide in a desperate race to find a likely witness before the killers have the chance to silence her forever.
AS SEEN BY THE REST (ULIDAVARU KANDANTE)
India, 2014
North American Premiere
Director – Rakshit Shetty
Mystery abounds in this fractured gangster story from Karnataka, India. Shades of SCARFACE, PULP FICTION and RASHOMON color Rakshit Shetty's entrancing story of good, evil and something else...
BLIND
Norway, 2014
Texas Premiere, 96 min
Director – Eskil Vogt
This debut gem from Eskil Vogt follows Ingrid who, having recently lost her sight, exists only in her apartment with her thoughts as a means of escape...
THE CREEPING GARDEN
United Kingdom, 2014
US Premiere, 81 min
Directors – Tim Grabham and Jasper Sharp
The slime mould: a form of microbial life with behavior somewhere between plant and animal and capable of primitive intelligence. Unusual? Yes, and just wait until you meet the people who study them ...
DEAD SNOW 2: RED VS DEAD (DØD SNØ 2)
Norway-Icelans, 2014
Texas Premiere, 100 min
Director – Tommy Wirkola
Lone survivor Martin must enlist help from America to battle Colonel Herzog and his horde in this wild sequel to the original Norwegian Nazi zombie film.
DWARVES KINGDOM
United States, 2014
World Premiere, 80 min
Director – Matthew Salton
Some have called The Kingdom of Little People the most offensive theme park in the world. DWARVES KINGDOM takes us inside to meet its performer residents.
THE EDITOR
Canada, 2014
US Premiere, 102 min
Director – Adam Brooks and Matthew Kennedy
A one-handed film editor finds himself the prime suspect after a series of violent murders start happening around him in this knowing tribute to giallo from the crazy minds at Astron-6!
ELECTRIC BOOGALOO: THE WILD, UNTOLD STORY OF CANNON FILMS
Australia, 2014
US Premiere, 107 min
Director – Mark Hartley
Mark Hartley brings his singular documentary style to the story of Menahem Golan and Yoram Globus, the trailblazers behind exploitation powerhouse studio Cannon Films.
FELT
United States, 2014
World Premiere, 79 min
Director – Jason Banker
A young artist loses herself in an unpredictable alter ego while attempting to cope with past trauma in this gripping sophomore effort from the creator of TOAD ROAD.
FORCE MAJEURE (TURIST)
Sweden, 2014
US Premiere, 118 min
Director – Ruben Östlund
An upper middle-class family's fragile existence is torn apart when a near tragedy occurs during a ski vacation and the two parents are forced confront the reality of each other's reactions.
FREE FALL
Hungary, 2014
North American Premiere, 89 min
Director – GYÖRGY PÁLFI
The director of TAXIDERMIA returns with seven stories of the mundanely bizarre.
I AM HERE
Denmark, 2014
World Premiere, 97 min
Director – Anders Morgenthaler
A powerful business executive wanders down a dark path in order to have the child she desperately needs in this shocking piece from the director of 2007's unusual animation PRINCESS.
I AM TRASH (NANEUN SSEURAEGIDA)
South Korea, 2014
World Premiere, 97 min
Director – Lee SANG-WOO
Three emotionally damaged brothers must deal with the aftermath of their father
IN ORDER OF DISAPPEARANCE
Norway, 2014
Texas Premiere, 115 min
Director – Hans Petter Moland
The director and star of A SOMEWHAT GENTLE MAN team up once again and the result is a brutal and darkly funny tale of snow, giant machinery and revenge.
JOHN WICK
United States, 2014
Gala Screening, 96 min
Directors – David Leitch and Chad Stahelski
An ex-hitman comes out of retirement to track down the gangsters that took everything from him. With New York City as his bullet-riddled playground, JOHN WICK (Keanu Reeves) is a fresh and stylized take on the "assassin genre". JOHN WICK opens nationwide on October 24, 2014.
MAN FROM RENO (RINO KARA KITA OTOKO)
Japan-United States, 2014
Austin Premiere, 111 min
Director – Dave Boyle
A Japanese crime novelist in San Francisco tries to unravel a real life murder mystery in this acclaimed neo-noir featuring Takashi Miike regular Kazuki Kitamura.
NECROPHOBIA 3D
Argentina, 2014
North American Premiere, 75 min
Director – Daniel De la Vega
A mentally fragile man must conquer his fear of death in order to stave off a killer's advances.
NIGHTCRAWLER
United States, 2014
US Premiere, 117 min
Director – Dan Gilroy
NIGHTCRAWLER is a pulse-pounding thriller set in the nocturnal underbelly of contemporary Los Angeles. Jake Gyllenhaal stars as Lou Bloom, a driven young man desperate for work who discovers the high-speed world of L.A. crime journalism. Aided by Rene Russo as Nina, a veteran of the blood-sport that is local TV news, Lou blurs the line between observer and participant to become the star of his own story. Nightcrawler opens nationwide on October 31st.
OVER YOUR DEAD BODY (KUIME)
Japan, 2014
US Premiere, 90 min
Director – Takashi Miike
This adaptation of a classic ghost story is a powerful return to horror for Takashi Miike.
PURGATORY
Spain, 2014
World Premiere, 83 min
Director – Pau Teixidor
A woman must survive the night after she welcomes a neighbor's child into her home.
REALITI
New Zealand, 2014
North American Premiere, 95 min
Director – Jonathon King
A time-warping drug leaves a young media exec caught up in a criminal case while questioning the very nature of existence and reality.
REDEEMER
Chile, 2014
World Premiere, 88 min
Director – Ernesto Díaz Espinosa
In order to atone for his past sins, he'll not only kick your ass, he'll impale your face and shred you to bits. Marko Zaror is the Redeemer!
SPRING
US, 2014
US Premiere, 105 min
Directors – Justin Benson & Aaron Moorhead
After the death of his mother and a bar altercation that could mean jail time, Evan leaves California for Italy, where he falls for a mysterious young woman.
THE TALE OF PRINCESS KAGUYA
Japan, 2014
US Premiere, 137 min
Director – Isao Takahata
A breathtakingly animated tale of a woman, the men who want to control her, and the moon. The latest from Studio Ghibli.
TOKYO TRIBE
Japan, 2014
US Premiere, 116 min
Director – Sion Sono
Festival favorite Sion Sono returns with an exercise in brash, colorful chaos pitting street gangs against one another in a bold hip hop musical.
THE TREATMENT
Belgium, 2014
US Premiere, 127 min
Director – Hans Herbots
A police inspector with a dark past leads an increasingly personal manhunt when a nine-year-old child goes missing.
WHISPERS BEHIND THE WALL
Germany, 2013
North American , 90 min
Director – Grzegorz Muskala
A naive young man falls for his beautiful-and very dangerous-landlord in this depraved voyeuristic thriller.