'The Hunger Games: Mockingjay' Posters Introduce The Resistance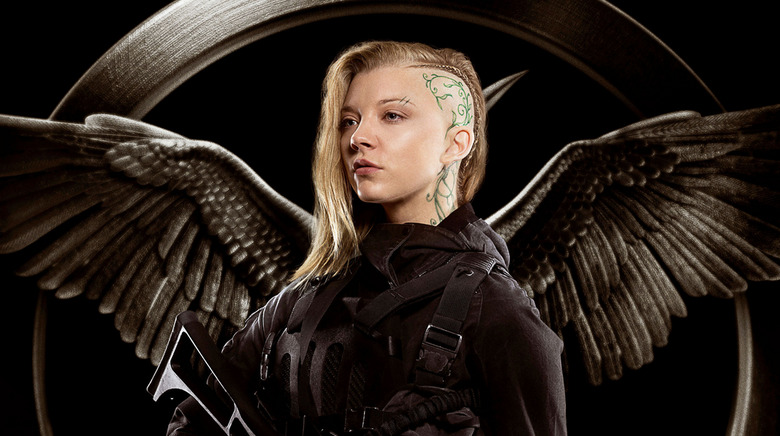 The residents of District 13 seem to have a thing for grey, but the warriors of District 13 are all about the color black. All the better to look badass, I guess. A new batch of The Hunger Games: Mockingjay posters introduce the resistance fighters, including Gale (Liam Hemsworth) and Cressida (Natalie Dormer). Check out the new The Hunger Games Mockingjay posters after the jump.
Dormer's character Cressida is a director of propaganda films, so she'd likely appreciate the way these posters turned out. With the mockingjay wings framing them from behind, the rebels look like avenging angels.
Aside from Cressida and Gale, there's Messalla (Evan Ross), her assistant; brothers Castor (Wes Chatham) and Pollux (Elden Henson), her cameramen; and Boggs (Mahershala Ali), Katniss's bodyguard. The new film has Katniss coming to the forefront of the rebellion, not just as a fighter but as a mascot of sorts.
The Hunger Games: Mockingjay – Part 1 opens November 21. Part 2 follows on November 20, 2015.
The worldwide phenomenon of The Hunger Games continues to set the world on fire with The Hunger Games: Mockingjay – Part 1, which finds Katniss Everdeen (Jennifer Lawrence) in District 13 after she literally shatters the games forever. Under the leadership of President Coin (Julianne Moore) and the advice of her trusted friends, Katniss spreads her wings as she fights to save Peeta (Josh Hutcherson) and a nation moved by her courage. The Hunger Games: Mockingjay – Part 1 is directed by Francis Lawrence from a screenplay by Danny Strong and Peter Craig and produced by Nina Jacobson's Color Force in tandem with producer Jon Kilik. The novel on which the film is based is the third in a trilogy written by Suzanne Collins that has over 65 million copies in print in the U.S. alone. Lionsgate presents, a Color Force / Lionsgate production, a Francis Lawrence film.