Tyler Perry Would Have Passed On 'Gone Girl' If He'd Known Who David Fincher Was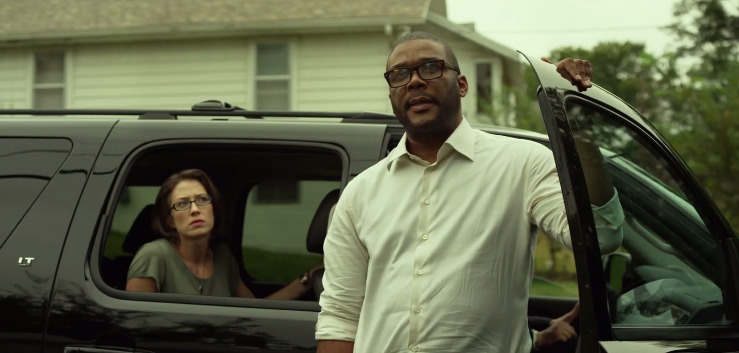 We were rather surprised to learn that Tyler Perry would be starring in a David Fincher movie, and as it turns out Tyler Perry was too. The multi-hyphenate confessed he didn't know who Fincher was when he signed on for the Gillian Flynn adaptation Gone Girl. If he had, he probably wouldn't have joined at all. Hit the jump to find out why.
"I probably would have walked away from it. If I had known who David Fincher was, and his body of work, or if I'd known the book was so popular, I would have said, No," Perry said. "And my agent knew that! He didn't tell me until after I signed on!"
Perry's retroactive reluctance boils down to the "pressure" that comes with starring in a beloved property. Which is understandable, frankly. Despite his status as one of the most successful men in entertainment, he tends to keep a low profile. A highly scrutinized adaptation like Gone Girl wouldn't normally be up his alley.
What's weirder is that Perry apparently had no idea who Fincher was. We could see the guy who invented Madea not having much interest in the guy who brought Tyler Durden to life. But you'd think he'd have seen Fincher's name on a magazine cover at some point or something.
In any case, now that Perry is more familiar with Fincher, it seems they get along just fine. Perry described the famously perfectionistic filmmaker as "always smiling," and even recalled one instance in which Perry got Fincher and Ben Affleck to join him in a singalong of Bette Midler's "The Rose." What we'd have given to be on set that day.
In the film, Perry plays lawyer Tanner Bolt, whom Affleck's Nick hires after being accused of murdering his wife Amy (Rosamund Pike). Bolt's nickname is in the novel is "Dickhead Defender," to give you an idea of just how sleazy he is.
Gone Girl opens October 3.