Watch Henry Cavill Take The Ice Bucket Challenge In His Superman Suit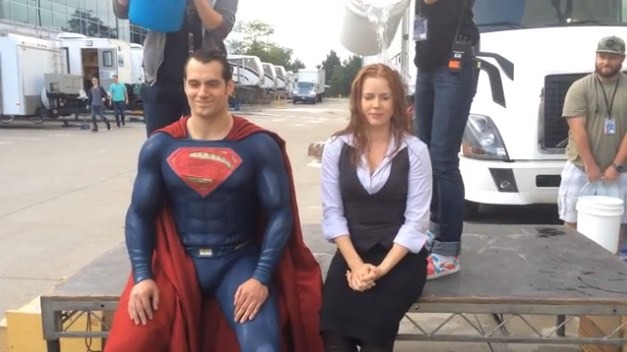 Okay, so as I said yesterday, we usually try to focus on entertainment news and avoid celebrity stories, but the Star Wars Episode 7 cast and crew taking the ALS Ice Bucket Challenge felt entertainment news-worthy enough to feature on the site. I honestly thought that was the last of those videos we'd feature on /Film but now the comic book superheroes are taking the challenge in full costume: Henry Cavill and Amy Adams both took the ALS Ice Bucket Challenge on the set of Zack Snyder's Batman V Superman: Dawn of Justice in their film costumes. I'm going to call it the Superman Ice Bucket Challenge.
Thats right, Cavill is wearing his complete Man of Steel Superman suit and Adams is dressed as reporter Lois Lane. We absolutely needed to share this video in case you missed it. And one Ice Bucket Challenge is nothing for Superman, so they give our favorite alien superhero something extra. Watch the Superman ice bucket challenge video embedded after the jump now.
Also last week Man of Steel / Batman v Superman: Dawn of Justice director Zack Snyder also took the ALS ice bucket challenge. Watch his video below along with his challenges to his Watchmen stars Jeffrey Dean Morgan and Carla Gugino & Malin Akerman, who take the challenge while kissing each other.
Zack Snyder:
Jeffrey Dean Morgan:
Carla Gugino & Malin Akerman: