'The Legend Of The Yokai' Art Initiative Views The 'Teenage Mutant Ninja Turtles' Through Ancient Japanese Tales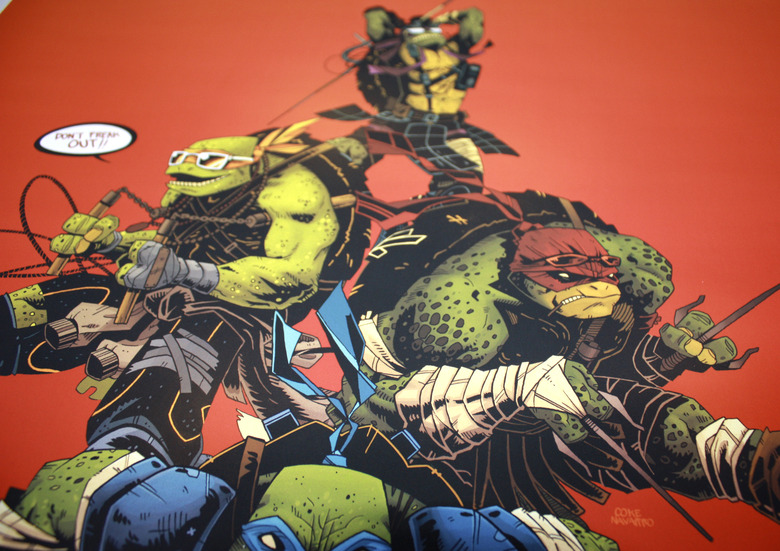 Paramount is still promoting The Teenage Mutant Ninja Turtles, and now the studio is encouraging fans to look at Kevin Eastman and Peter Laird's creations through the lens of ancient Japanese folk tales. The Legend of the Yokai (http://www.
legendoftheyokai.com/) is an online art show in which a variety of artists have created new interpretations of the turtles based on various folk demons.
Below, we've got the debut of a new Turtles image by Coke Navarro, along with a set of work in progress images from the artist.
In this gallery, the work in progress images are first; the final gallery entry is Navarro's finished piece.
About Coke Navarro 
Coke Navarro's first influences were from his father's comic magazines, where he became familiar with authors like Moebius and Hugo Pratt, while falling in love with all kinds of comic books. Although he started drawing at a very young age, Coke didn't study art until he went to the University of Valencia. While attending from 2007 to 2013, he specialized in illustration and animation. During this time, he began to receive work as an illustrator, with almost all of the illustrations being commissioned for bands to use as album covers. Currently Coke works in Valencia as a freelance illustrator, creating music posters, album covers, animating clips or illustrating whatever inspires him. He is also working on his first comic book, "Kid Owl", which will be available in 2015.
TEENAGE MUTANT NINJA TURTLES – "Legend of the Yokai" Artist Initiative
Before the Teenage Mutant Ninja Turtles emerged from their lair to protect New York City from the sinister Shredder and his Foot Clan soldiers, there were four heroic "Kappa" (ancient turtle warriors who vowed to protect a humble village from the demonic Yokai).Paramount Pictures is taking movie fans back in time, to an age of tradition, mystery and magic. In a collaboration with distinguished artists from around the world, "The Legend of the Yokai" is a new experience that explores the secret origins of the Ninja Turtles. Based on traditional folklore, "The Legend of the Yokai" tells the epic tale of a village over-run by an evil warlord and his army of demon monsters. When all hope seems lost, the wishes of an innocent girl summon forth the heroic kappa turtles, who abide by the pillars of honor, courage, wisdom and brotherhood, fighting side-by-side to vanquish this fearsome evil. Featuring artwork based on these four ideals created by over a 30 artists from 16 different countries, "The Legend of the Yokai" brings an ancient epic to life and connects it to a new generation of heroes: the Teenage Mutant Ninja Turtles. Spain artist Coke Navarro has created a Turtles-inspired work based off his unique artistic style highlighting the Teenage Mutant Ninja Turtles. For more on this piece of art and works from artists around the world visit http://www.
LegendoftheYokai.com