'Phoenix' Trailer: A Stately, Gorgeous Look At This Post-WWII Mystery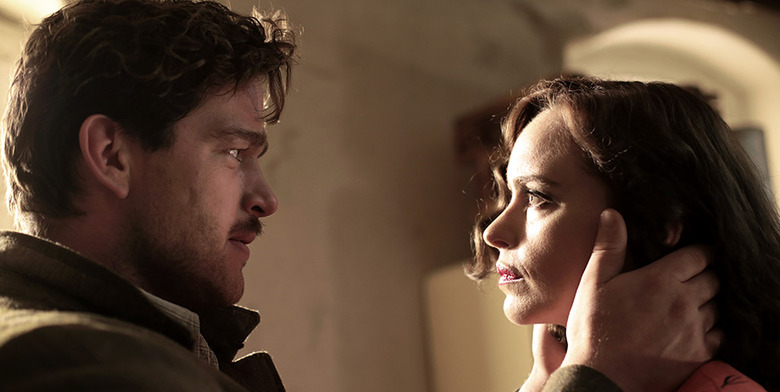 Christian Petzold, director of Barbara, had a new film premiere in Toronto this week, and the people who love Phoenix really love it. Called a Hitchcockian thriller set in post-WWII Berlin, the film features Nina Hoss as a concentration camp survivor who goes to great lengths to find her husband, from whom she was separated before her internment. But he could have a darker role in her wartime experience than she originally believed. Check out the Phoenix trailer below.
Sample reviews include those from RogerEbert.com ("This is an amazing piece of work that transcends historical document to become art."), Indiewire ("unfolds with the mesmerizing focus of a grim chamber drama."), and THR ("Hoss literally finds a new voice – culminating in an explosive final scene that's as perfect as they come.") Echoing that point, Jordan Hoffman tweeted "I can say without hyperbole that the last scene in PHOENIX is locked in the books as one of the all time classics."
TIFF has the image above and the info below. Phoenix premiered at the fest; we'll report on US distribution when info arrives. (Update: Sundance Selects bought distribution rights in Toronto, but has not set a release date as yet.)
A concentration-camp survivor (Nina Hoss) searches ravaged postwar Berlin for the husband who might have betrayed her to the Nazis, in this gripping drama from leading German filmmaker Christian Petzold (Jerichow, Barbara). Petzold returns with another story of a fiercely determined woman — and the deeply divided society to which she belongs — caught between a tragic past and an uncertain future.
Emerging from a concentration camp at the end of World War II, Nelly Lenz (played by the formidable Nina Hoss, Petzold's regular star) undergoes significant reconstructive surgery to repair a serious facial injury caused by a bullet wound. Nelly wants everything to be exactly the way it was before the war — including her appearance — but it isn't. Presumed dead by her friends and relatives, fixated on the memories of her former life and unable to accept the shattered reality before her, Nelly returns to Berlin to fulfill the dream that sustained her throughout her imprisonment: reuniting with her husband, Johnny (Ronald Zehrfeld, Hoss's co-star in Barbara). But even as she scours the ravaged city to find him, she is haunted by terrible, whispered rumours: that it was Johnny himself who betrayed her to the Nazis.