Jeremy Renner Hints We'll Get More Hawkeye In 'Captain America 3'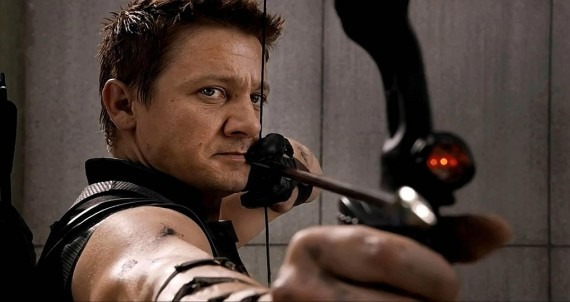 After getting close to Black Widow in Captain America: The Winter Soldier, Cap may be buddying up with another Avenger in Captain America 3. According to Jeremy Renner, there are "rumblings" that expert archer Hawkeye could appear in the upcoming threequel. Hit the jump to see exactly what he said.
The fact Renner's only heard "rumblings" could suggest that Hawkeye isn't in the movie that much, but on the other hand it could just be indicative of the fact that Captain America 3 is still a couple of years away. The filmmakers are still ironing out the details. Plus, Renner's probably not even allowed to say more than that at this point. We all know how secretive Marvel is when it comes to their upcoming projects.
Although Renner's Hawkeye has appeared in two Marvel movies already, at this point he's the Avenger we know least about. Iron Man, Thor, and Captain America have all led multiple films, and Hulk has had a solo outing as well (albeit with Edward Norton, not Mark Ruffalo). Even Coulson has his own show, while Nick Fury and Black Widow got more fleshed out in Captain America: The Winter Soldier.
Marvel's underutilization of Renner has not gone unnoticed by the actor or his fans. Renner has expressed his disappointment with his role in The Avengers. Fortunately, there's an imminent fix, as Kevin Feige has promised we'll get more of the character in Avengers: Age of Ultron. Frankly, it'd be foolish of Marvel to waste the character, considering how popular his comic book counterpart is.
In any case, Renner has plenty of work to keep him busy while he waits for Marvel's call. Here's his rundown of his to-do list:
Kill the Messenger is a great one for our company. It's our first one we've produced and it's setting a tone for what we want to do to the public and to other people that want to make movies. Another one is King of Heists that's about the biggest bank robbery in American history. It's very, very exciting. It's kind of like Heat in the early 1900s. It's really cool. And then, there's a Steve McQueen project (McQueen) that's fascinating to me. I love that guy. He's so the antithesis of himself constantly. It's amazing. And then Slingshot is a great rally racing movie. It's again another one with themes of underdogs. But then, I still have Mission: Impossible 5 that I'm going to shoot in a week. And then, Bourne will happen next summer.
Joe and Anthony Russo are prepping Captain America 3 for release on May 6, 2016.