New 'Better Call Saul' Promo Poses An Important Question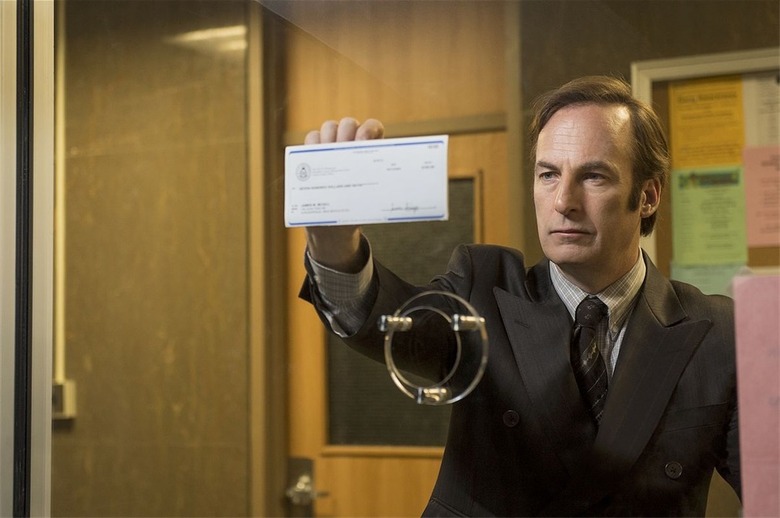 Bob Odenkirk's Saul Goodman was just a supporting character in the dramatic saga of Walter White, but his colorful personality couldn't help but demand our attention. So in the upcoming Breaking Bad spinoff Better Call Saul, he'll finally get his time in the spotlight.
The show promises to delve into the hows and whys of this fan-favorite character, but for now all we have are questions. Like the one series co-creator Peter Gould poses in the new Better Call Saul promo: "What kind of problem do you have that becoming Saul Goodman solves it?" Watch the Better Call Saul promo after the jump.
Though the name Saul Goodman is referenced right there in the title, Saul Goodman isn't actually Saul Goodman when Better Call Saul begins, a few years before the events of Breaking Bad. Instead, he's Jimmy McGill, a small-time lawyer struggling to make ends meet.
Better Call Saul will explain the hows and whys of his transformation into Saul Goodman. "Jimmy McGill into Saul Goodman" doesn't sound like quite as dramatic a transformation as "Mr. Chips into Scarface," but knowing Odenkirk, Gilligan, and Gould, we've no doubt it'll be a colorful ride.
Created by Gould and Vince Gilligan, Better Call Saul will premiere on AMC in February 2015. Jonathan Banks, Michael McKean, Rhea Seehorn, Patrick Fabian, and Michael Mando also star.
The series is set six years before Saul Goodman meets Walter White. When we meet him, the man who will become Saul Goodman is known as Jimmy McGill, a small-time lawyer searching for his destiny, and, more immediately, hustling to make ends meet. Working alongside, and, often, against Jimmy, is "fixer" Mike Ehrmantraut, a beloved character introduced in 'Breaking Bad.' The series will track Jimmy's transformation into Saul Goodman, the man who puts "criminal" in "Criminal lawyer." The series' tone is dramatic, woven with dark humor.