Exclusive: 'Thrashin' By We Buy Your Kids, From New Mondo Gallery Exhibit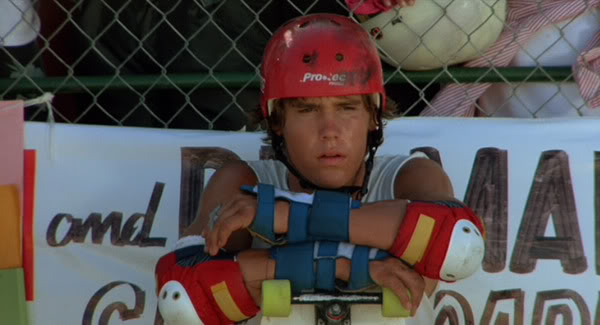 Kids have the dumbest priorities. When I was young, I wanted to ride a BMX bike and skateboard. I'm not exactly sure why but I think it had to do with seeing two '80s movies that, these days, seem pretty lost to time: Rad and Thrashin'. Each film was made as a reaction to the rising craze of extreme sports that still continues to this day, but neither was particularly successful or memorable. In fact, Thrashin' is only notable today for being one of the first starring roles for Thanos himself, Oscar-nominee Josh Brolin. I've rewatched each film fairly recently and must say, my nostalgia for them wipes away almost all of their considerable flaws. They'll forever remain in my heart as defining films of my childhood.
Decades later, I'm always excited to find people who share that passion for these films. I'm even more excited when those people are evocative and talented artists with their own upcoming gallery show. Which is all preamble to say we have a very personal, very awesome debut to make for the latest We Buy Your Kids exhibit at the Mondo Gallery in Austin, Texas. The artist team of Sonny Day and Biddy Maroney has done posters for a laundry list of films, including several that have never had Mondo prints. One of those is Thrashin', which you can see below along with the exclusive debut of the We Buy Your Kids Mondo Gallery poster.
The We Buy Your Kids Mondo show is called Harsh Majical, and it runs August 29 through September 15 at the Mondo Gallery, 4115 Guadalupe St. in Austin, TX. There's an opening reception set for 7-10 p.m. on August 29.
Here's Thrashin', an 18 x 24 inch edition of 75.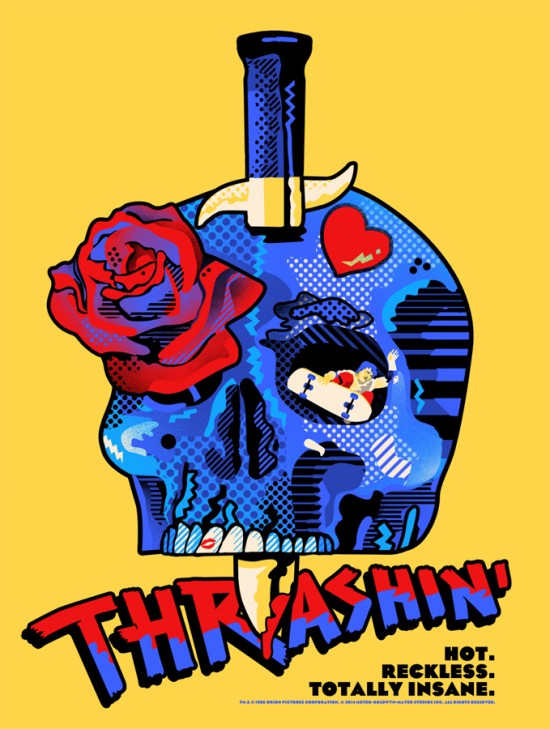 This take on Thrashin' is exactly what you'd expect from We Buy Your Kids. Which is to say, it's very unexpected. The seemingly random colors and design work mixed with iconic dashes from the film create an image that would be just as interesting without the title on it. But with the title, it's a true conversation piece for one of my favorite films of the Eighties.
Along with Thrashin', here's our exclusive debut of Harsh Majical show poster, an 18 x 24 inch edition of 75.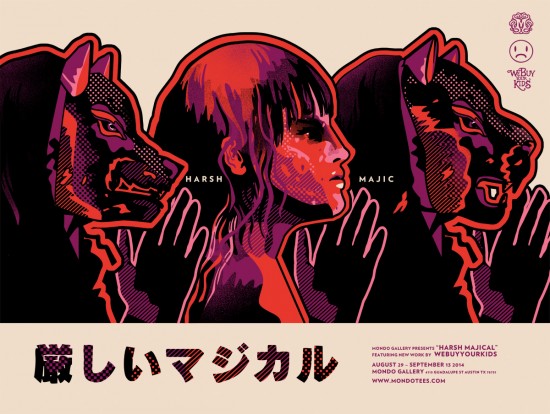 Here's the full press release for the show which includes some info on other posters:
Mondo welcomes back beloved Australian artist duo, We Buy Your Kids, for the next gallery show, "Harsh Majical." The show will run from August 29th through September 15th. The opening reception will be Friday, August 29th from 7 –10pm at the Mondo Gallery, located at 4115 Guadalupe St. in Austin, TX.
Sonny Day and Biddy Maroney, the faces behind Sidney-based We Buy Your Kids, are known for their colorful, off-beat design style. They combine hand-made and digital techniques to create their work, often playing with color, shape and texture. Their influences include a shared love of comic books, skateboarding, music and film.
The show's title, "Harsh Majical," came from a direct English translation of a Chinese description of WBYK's work. "We felt it might sum up the final outcome, but more importantly describes the fun we've had working on this collection." It will include prints from films previously tackled by Mondo artists, such as Alien and The Fly, but will also introduce some new titles, like White Men Can't Jump and Robinson Crusoe on Mars.
"When we started to think about movies for the show, Alien was one of the first that we chose," said WBYK. "We both love it, everyone loves it, it's an all time classic." They had originally gone for a more static, art deco approach to the print, focusing on beautiful designs of the helmet and monster frozen in space. "It didn't quite seem to illustrate the horror of the film, or the tension. Instead we let it rip with a bolder image of the terror inside man."
The show will also feature a softer take on sci-fi horror classic, The Fly. "When I firstwatched the film, I was surprised at how touching and sad it was. This tenderness wasthe first thing we wanted to convey in the poster. We zoomed right in so we could focus on those human emotions that run right through the movie, which are often overlooked in favour of the iconic glowing sci-fi, goopy-fleshed imagery," said Day.
In addition to creating prints for Mondo's online store, this will be the second gallery show featuring art from the talented duo. Their first, entitled "Tina's Mom's Boyfriend" (which opened in December of 2012), was a huge success and "Harsh Majical" is expected to be equally bizarre and awesome.
"We are over the moon to have another chance to show our work in their amazing space," said the pair. "We cannot wait to get back to Austin."