Matthew McConaughey Wanted For 'The Stand' [Updated]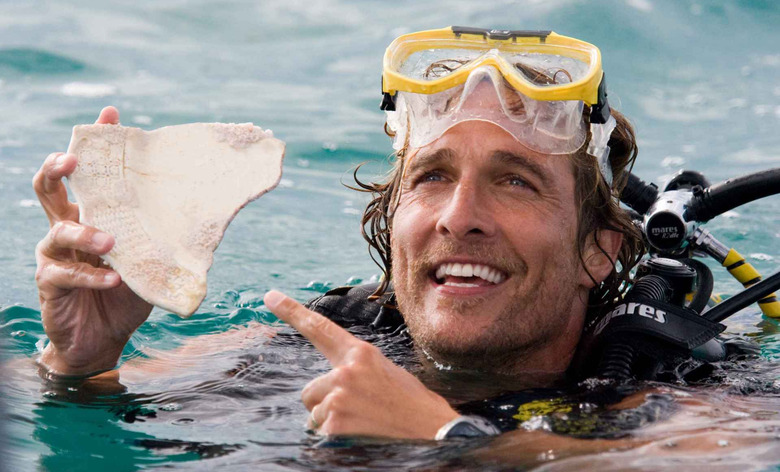 Writer/director Josh Boone is down with the McConaissance, for obvious reasons, and he wants the actor to play a lead role in The Stand. Depending on which of Matthew McConaughey's roles are most prominent in your mind, however, the role choice might surprise you. And the choice is great, so read more below.
Update: Sadly, Boone said via Twitter that this is not true.
In so many ways, McConaughey is pitch-perfect for the role of Stu Redman, the Texan who survives the outbreak of a super-virus nicknamed "Captain Trips," and becomes the unofficial leader of the "good" band of survivors. If you wanted to put down a two-word description of Stu Redman, "Matthew McConaughey" would do it. (The character was played by Gary Sinise in the 1994 TV mini-series adaptation.)
The way things are going now, that's not who the actor would play.
Maybe Josh Boone and Warner Bros. just finished a re-watch of True Detective or Killer Joe because they want the actor to go darker, and play Randall Flagg, aka "the Walkin' Dude," aka the big bad wolf of the story. Flagg has strolled through the worst moments in history, and he rallies a group of degenerate survivors in Vegas, from where he plans to build his own evil empire. That's not a reach at all, but it's so easy to see producers leaping to the Stu Redman gig that it stands out.
And, frankly, McConaughey as Flagg is brilliant. On film, Flagg could so very easily turn into a hyper-caricature of evil, when he really needs to be a manifestation of all the ugly characteristics we try to tamp down and sweep away. McConaughey could bring the guy to life in a beautiful way. (Jamey Sheridan did a good job in the TV series, though Stephen King's script, adapted from his novel, sometimes had him doing really on the nose stuff.)
Update: Boone says that he would want McConaughey as (yep) Stu Redman, but that this story isn't true.
Meanwhile, Deadline also reports that McConaughey and director Stephen Gaghan are near a deal to work together on Gold, a film based on a script by Patrick Massett & John Zinman. That one is "based on a true story about the 1993 Bre-X Mineral Corporation mining scandal in which vast amounts of gold were reportedly discovered in the Indonesian jungle."
If that one sounds familiar, it's because it has been around for years. Michael Mann wanted to make the movie at one point, then Spike Lee was attached.