Josh Brolin Would Show Up For 'Goonies 2'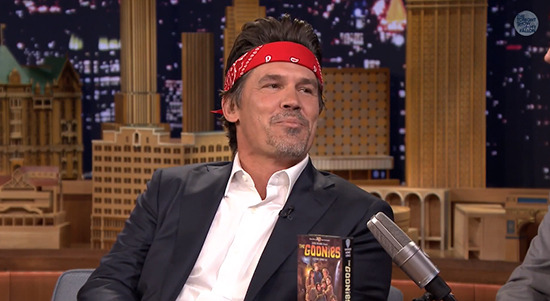 Here's your opportunity: write a CRAZY script for The Goonies 2, because Josh Brolin says he'll show up for it. The actor, out promoting Sin City 2, just appeared on The Tonight Show With Jimmy Fallon. And in case the screenshot above doesn't make the setup pretty clear, a lot of the talk on the show was about Brolin's first big role, in The Goonies. We're getting close to the film's 30th anniversary (man, that hurts) and Fallon really wanted to talk about the movie. He got his wish; get a read on the odds of seeing Josh Brolin in Goonies 2, below.
The thing is, while Brolin is willing to show up for a Goonies sequel, he doesn't seem all that confident that he'll ever get the call. He's heard all the rumors everyone else has, about something possibly happening, and probably quite a few more. "A sequel is in the works" is something that nearly gets an eye roll from Brolin. So while he'll talk about being game for the potential new movie, the thing to take away from this video is probably that any "news" of a sequel should be viewed as... let's say "hopeful," rather than anything else.