This Is What 'Sin City: A Dame To Kill For' Looks Like Without The VFX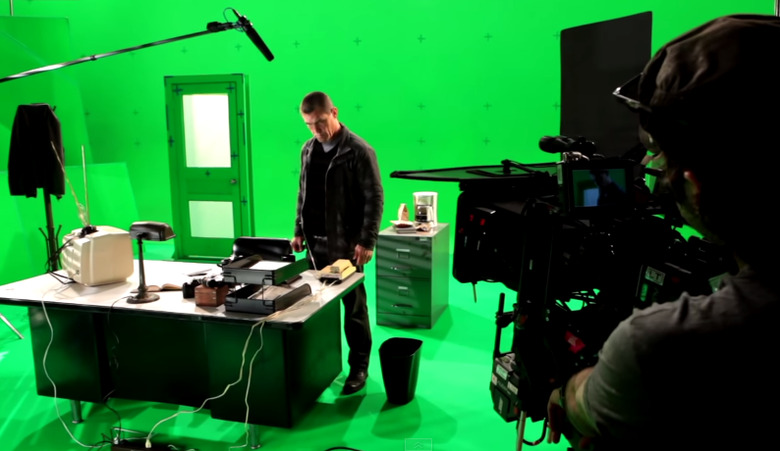 On the screen, Sin City: A Dame to Kill For is all about bright white and pitch black. But on the set, the dominant color was green — as in green screen.
As these two Sin City: A Dame to Kill For behind-the-scenes videos show, almost everything you see on screen aside from the actors is really made of pixels. If you've ever wondered what the film might look like without all the fancy VFX work, find out after the jump.
The first Sin City was similarly reliant on green screen, and it's funny now to remember how unusual that felt at the time. These days, it's no longer unusual for filmmakers to eschew cumbersome practical sets in favor of more flexible CG sets. (Just look at any photo from the shooting of The Hobbit.) And as technology improves, it's getting more and more difficult to tell the difference anyway.
Even by today's standards, though few films are as dependent on VFX as Sin City: A Dame to Kill For. Aside from the actors, nearly everything in Frank Miller and Robert Rodriguez's high-contrast, ultra-stylized film was created on a computer. Which makes for some interesting behind-the-scenes videos.
Without the CG work, Sin City isn't really Sin City at all, but a dinky room filled with people wearing leather jackets and pointing plastic guns. I found myself simultaneously admiring and pitying the actors, who are the ones valiantly pretending to see a vast mansion or a crowded bar when all they're really seeing is green, green, green.
Sin City: A Dame to Kill For is in theaters now.
Co-directors Robert Rodriguez and Frank Miller reunite to bring Miller's visually stunning "Sin City" graphic novels back to the screen in SIN CITY: A DAME TO KILL FOR. Weaving together two of Miller's classic stories with new tales, the town's most hard boiled citizens cross paths with some of its more notorious inhabitants. SIN CITY: A DAME TO KILL FOR is the follow up to Rodriguez and Miller's 2005 groundbreaking film, FRANK MILLER'S SIN CITY.