HBO's First 'Girls' Season 4 Teaser Sets Hannah Up For A Fall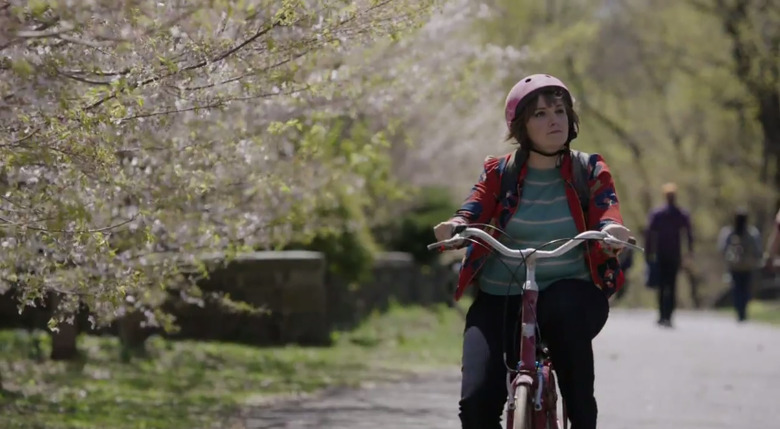 HBO's Girls has been off the air for about five months now, and it won't be back on for another five months or so. So HBO just wants to make sure you don't forget about it in the meantime.
With production now underway, the network has revealed the first Girls Season 4 teaser, which shows Hannah Hovarth (Lena Dunham) headed for a big fall. Hit the jump to check it out.
It's a short teaser, but it's really Girls in a nutshell: Just when things seem to be looking up for Hannah, she has a way of falling flat on her face. Knowing Hannah, though, she'll pout for a bit and then get back up, dust herself off, and keep going. The tune, if you're wondering, is Aberfeldy's "Friend Like You."
Girls Season 3 ended on a bit of a cliffhanger, with Hannah trying to decide whether to attend a writing workshop in far-off Iowa. So far, all signs point to yes, she goes. We've heard reports that the Girls team was turned away from shooting on the actual University of Iowa campus, and actors Desiree Akhavan and Peter Mark Kendall were cast as Iowa students a few months back.
Now, the leafy campus backdrop of the Girls Season 4 teaser all but confirms it. But don't worry, the show isn't leaving Hannah's beloved Brooklyn behind entirely. The cast, including Dunham, has also been spotted filming in various locations around the city.
As usual, the new season will bring with it an array of intriguing guest stars, among them Gillian Jacobs, Spike Jonze, Natasha Lyonne, Jake Lacy, Zachary Quinto, Jason Ritter, and Maude Apatow.
Girls Season 4 will premiere in early 2015 with ten episodes. Allison Williams, Zosia Mamet, Jemima Kirke, and Adam Driver will all reprise their usual roles. Andrew Rannells has been added as a series regular.