'Star Wars Rebels' Short Film "Entanglement": Zeb Vs. Stormtroopers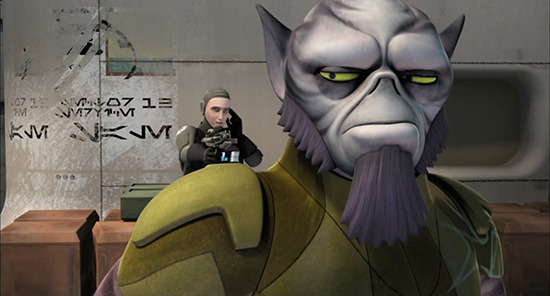 Update from Editor Peter Sciretta: Disney has released the third short film in its entirety online. The new Star Wars Rebels short film "Entanglement" follows Zeb, who "fails to meet with Kanan at a specified rendezvous point and instead finds himself joyfully battling many, many stormtroopers." Watch the Star Wars Rebels Zeb short film now embedded after the jump.
Star Wars Rebels Zeb Short Film
The original story from August 22nd 2014 follows:
The Star Wars Rebels promo team is introducing the show's potential audience to the Rebels character set one person (or robot) at a time through a series of short films. The next short film intro highlights Zeb, the burly warrior whose design is based on Ralph McQuarrie's original conception for Chewbacca. Steve Blum voices Zeb, and in this clip from his upcoming short you'll see him bash in the helmets of a handful of stormtroopers as he deviates from his mission path. Check out some of the Star Wars Rebels Zeb short footage below.
Star Wars Rebels also features the voices of Freddie Prinze Jr., Taylor Gray, Blum, Tiya Sircar, Vanessa Marshall, Jason Isaacs, David Oyelowo and Billy Dee Williams. The series is created by Dave Filoni, Simon Kinberg and Carrie Beck, and Greg Weisman exec produces with Filoni and Kinberg.Star Wars Rebels premieres October 3 on the Disney Channel, then will run as a series starting October 13 on Disney XD.