'Annabelle' Trailer: 'The Conjuring's Bad Doll Gets Her Own Spinoff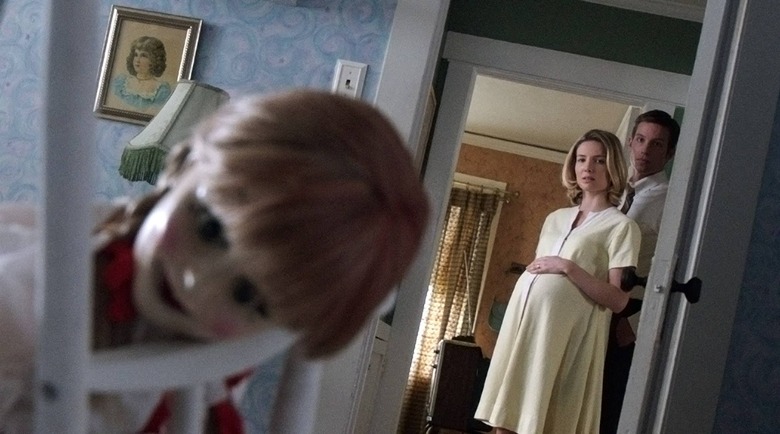 The creepy doll Annabelle was only a small part of The Conjuring, but she sure made an impression. Enough so that New Line decided to give her her own spinoff.
The new Annabelle trailer picks up around where the old one left off. Following the vicious attack on their home, John (Ward Horton) and Mia (Annabelle Wallis) have pulled themselves back together. However, awful things keep happening. Hit the jump for the new Annabelle trailer.
This trailer isn't nearly as spooky as the ones for The Conjuring were, but then again few horror trailers are. Annabelle looks like it could be a solid thriller in its own right. That garishly painted, eternally grinning doll face is so horrible on its own, it doesn't need much to tip it over into flat-out horrifying.
Really, the least believable part of this trailer is when Mia, who appears to have eyes that work, claims that Annabelle "fits right in" with the otherwise lovely decor in the nursery. Then again, if Annabelle were too cute, maybe her actions would feel a little too adorably Toy Story.
Annabelle opens October 3. Alfre Woodard and Tony Amendola also star. John Leonetti directed.
She terrified you in "The Conjuring," but this is where it all began for Annabelle.
Capable of unspeakable evil, the actual doll exists locked up in an occult museum in Connecticut—visited only by a priest who blesses her twice a month.
New Line Cinema's supernatural thriller "Annabelle" begins before the evil was unleashed.
John Form has found the perfect gift for his expectant wife, Mia—a beautiful, rare vintage doll in a pure white wedding dress. But Mia's delight with Annabelle doesn't last long.
On one horrific night, their home is invaded by members of a satanic cult, who violently attack the couple. Spilled blood and terror are not all they leave behind. The cultists have conjured an entity so malevolent that nothing they did will compare to the sinister conduit to the damned that is now...Annabelle.