'Outcast' Trailer: Nicolas Cage And Hayden Christensen In Medieval China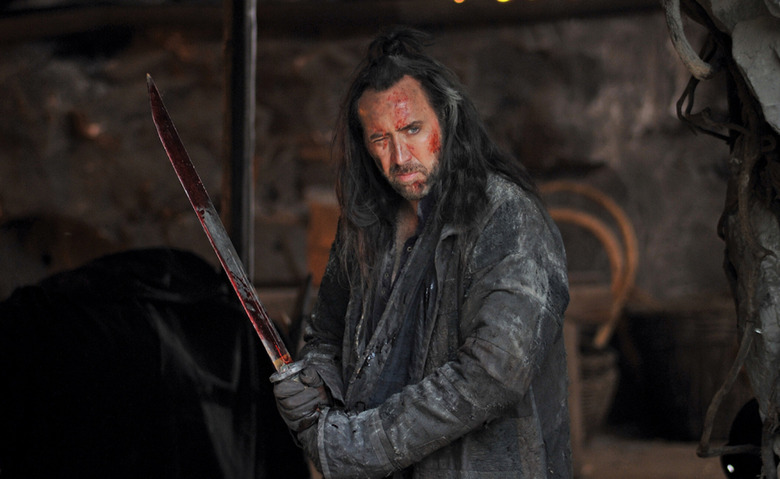 Ever wonder what Hayden Christensen is up to these days? I mean, probably not, because like most people, you probably forgot he existed in the first place. But today we have an answer for you anyway.
According to the first Outcast trailer, he's gallivanting around ancient China with none other than Nic Cage, trying to help a couple of kids reclaim the throne or something. And it's just as hilariously bizarre as you'd expect. Watch the Outcast trailer after the jump.
For about the first 60 seconds, Outcast looks like a mediocre war epic. Then Cage comes with his fake British accent, declaring that he IS the White Ghost, and Outcast starts to look like an entertainingly terrible war epic.
I don't know where to start. There's Christensen with the hippest haircut ever seen in Medieval-era China. There are his black robes, which bear an unfortunate resemblance to his Star Wars costumes. There's Cage sassing a 14-year-old boy-king-in-hiding, and toasting to Christensen's words of wisdom.
On second thought, though, maybe that last part isn't as dumb as it sounds. This does seem like the kind of movie best enjoyed with an overflowing cup of mead. Or modern craft beer. Eh, they're obviously not trying hard to stay period-accurate and you shouldn't bother either.
Outcast is Christensen's first film in four years, and judging by the trailer this new chapter in his career is not off to a promising start. Although maybe he just wanted the opportunity to see Cage don fake hair and yell at children in person. No one could blame him for that.
Nick Powell directed the film. Yifei Liu also stars.