'A Good Marriage' Trailer: Stephen King Adapts His Own Murderous Novella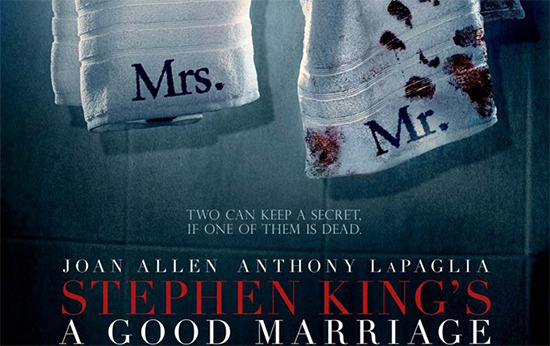 A Good Marriage is based on Stephen King's novella from the Full Dark, No Stars collection, and it's the first King screenplay to hit the big screen in a long time. The film stars Joan Allen, Anthony LaPaglia, Kristen Connolly, and Stephen Lang in a story about a woman who discovers that her perfect, loving husband is in fact a serial killer. Nice concept, but this first A Good Marriage trailer shows that it might falter in the execution. Check it out below.
So... yeah. Hopefully this one is better than it looks. Peter Askin (Company Man) directed, and so far A Good Marriage looks like a forgotten '90s thriller, and one that was forgotten for a reason.
Now, there's a reliable rule of thumb when it comes to Stephen King: his prose stories are often terrific, but when he writes a screenplay the results aren't always great. (His early effort Creepshow is a pleasant exception.) Most of King's script work in the past decade or so has been for television; his last screenplay to hit the big screen was Sleepwalkers, which disappointed audiences in 1992. I'm curious to see how this one turns out, but this trailer isn't very encouraging.
A Good Marriage opens on October 3. Trailer via Apple.
When her husband (Anthony LaPaglia) of more than twenty years is away on one of his business trips, Darcy Anderson (Joan Allen) looks for batteries in the garage. Instead she discovers the stranger inside her husband. It's a horrifying discovery, rendered with bristling intensity, and it definitively ends a good marriage.