Name A Kaiju Or Jaeger; Win An Authentic Prop From 'Pacific Rim' [ENDED]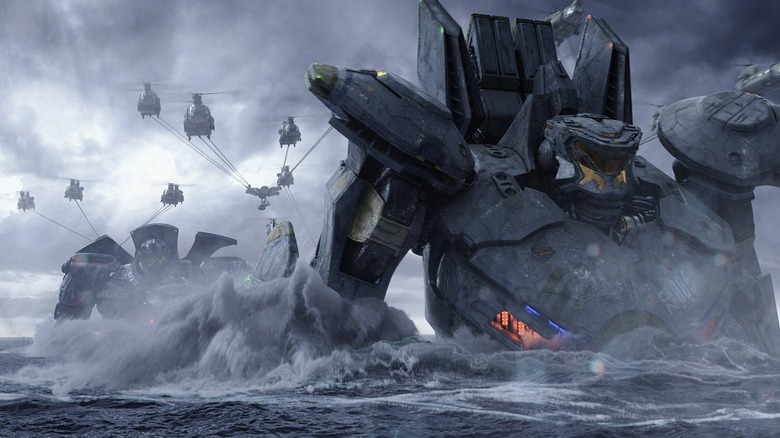 EDIT: THIS CONTEST HAS ENDED. WINNERS HAVE BEEN CONTACTED.
Starting next week, the Prop Store is letting fans own a piece of Guillermo del Toro's Pacific Rim. On August 25, an online auction will begin that includes over 300 original props, costumes and set decoration pieces used in the summer blockbuster. We're talking full on Jaeger pilot suits all the way down to the smallest little background details.
Most of this stuff can get pretty expensive, though, which is where /Film comes in. We're proud to offer you the ability to win one of two authentic props from the film for free. We have a Kaiju Organ Jar and Loccent shirt, which are the men behind the Jaegar program.
All you have to do is send us an e-mail with the name and brief description of either the Kaiju or Jaeger of your dreams and you're automatically entered. The contest will run for one week. Below, find out more details and see photos of the prizes for the Pacific Rim auction.
First up, you should definitely sign up for the Pacific Rim auction at PropStore.com by clicking that link. You have to register to be eligible to bid on the items and the auction starts August 25. More information is at the link.
To enter for the Jar or shirt, send an e-mail with the subject line "Pacific Rim Auction" to slashfilmcontest@gmail.com. The contest is open to anyone in the world. Include your name, address, phone number, and if you're international, anything else that's important. Then give us the name of an original Kaiju or Jaeger of your creation, as well as one sentence on what makes them unique. If you do all that, you qualify for an entry. Two winners will then be randomly selected out of qualified entires. First prize gets their choice of the Jar or the shirt. Second prize gets whatever the other person doesn't choose.
The deadline for entries is 9 a.m. PST Wednesday August 27.
Here are the prizes. First up, the Kaiju Jar
And the Loccent shirt.
Each were used in the making of Guillermo del Toro's Pacific Rim.
For more on the props and the auction, visit www.propstore.com.