'Nightcrawler' Moves To Halloween, Legendary's 'Krampus' Gets Fall 2015 Date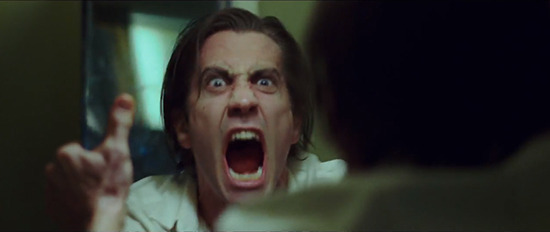 When one film moves around on the calendar, others often follow suit. Recently David Ayer's Fury was pulled up from a November 2014 opening to a mid-October date, the better to (hopefully) enjoy a long awards season runup. That put it directly in competition with Nightcrawler, the indie thriller starring Jake Gyllenhaal. Now Nightcrawler has backed off a couple weeks to put room between the two releases. In addition to the Nightcrawler Halloween date, there's news about Universal and Legendary dating a pair of genre films for 2015 and 2016.
Open Road had planned to open Nightcrawler on October 17 of this year, which put it on the same weekend with the Nicholas Sparks adaptation The Best of Me, the animated The Book of Life, and as of a few days ago, the World War II tank squadron film Fury starring Brad Pitt.
Now Open road has pushed Nightcrawler back to October 31. Based on what we've seen from the film so far Nightcrawler doesn't look like a textbook Halloween release, but it does have enough of an odd air that it will perhaps be a good audience option that weekend. Here's the official synopsis, via Open Road:
Written and directed by Dan Gilroy, NIGHTCRAWLER stars Jake Gyllenhaal as Lou Bloom, a driven young man desperate for work who discovers the high-speed world of L.A. crime journalism. Finding a group of freelance camera crews who film crashes, fires, murder and other mayhem, Lou muscles into the cut-throat, dangerous realm of nightcrawling — where each police siren wail equals a possible windfall and victims are converted into dollars and cents. Aided by Rene Russo as Nina, a veteran of the blood-sport that is local TV news, Lou blurs the line between observer and participant to become the star of his own story. Also starring in NIGHTCRAWLER are Bill Paxton and Riz Ahmed.
And then there are two new dates from Legendary and Universal, via The Wrap. Krampus, the Christmastime horror film that will be directed by Michael Dougherty (Trick 'R Treat) is now set for November 25, 2015. The film is co-written by Dougherty, Todd Casey and Zach Shields, and follows legends of a pagan demon who steals away bad children.
(Don't confuse this one with Kevin Smith's Comes the Krampus, which was announced first, but has been re-titled Anti-Claus.)
Finally Universal and Legendary have set an August 12, 2016 date for their 3D thriller Spectral, which follows "an elite Special Ops team on the trail of a phantom threat that can't be explained." For that one Nic Mathieu is the director, with a cast that includes James Badge Dale, Emily Mortimer, Max Martini and Bruce Greenwood. Ian Fried, George Nolfi and John Gatins wrote.