Dwayne Johnson Still Deciding Between Shazam And Black Adam [Updated]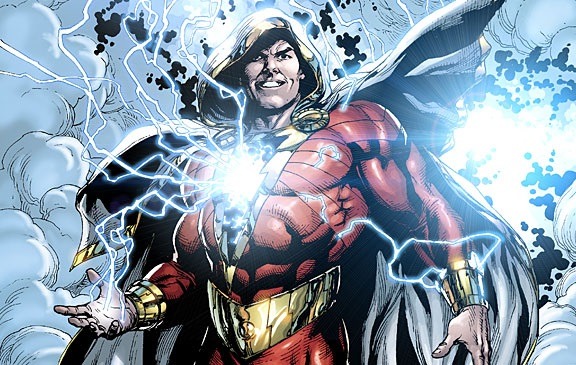 We've known for a while now that Dwayne Johnson has plans to star in a Shazam movie. But there have been some conflicting reports about which part he'd play, and now we know why: He hasn't decided yet. Hit the jump to read his latest comments on the matter.
Update: Further comments from Johnson have been added below, relating that he wanted to announce Shazam at Comic Con, and saying that he expects the official announcement to come soon.
While in Mexico to promote Hercules, Johnson confirmed to the
that he will be in Warner Bros.' upcoming adaptation of the DC Comics character. However, he admitted that he was still making up his mind about whether to play the superhero, Shazam, or his archnemesis, Black Adam.
Johnson did mention in the same interview that he loves antiheroes and that Black Adam in particular is one of his favorite DC characters. Still, we imagine playing the heroic lead has its appeal too.
Either way, Johnson is eager to see that comic book fans are not disappointed. "I am putting my heart and soul and my bones into this role," he said. When we'll see the fruits of his labor is unclear, though, as he wouldn't say whether he would appear in the next DC movie, 2016's Batman v Superman: Dawn of Justice.
The latest incarnation of the Shazam movie only recently started picking up steam, but Johnson's been linked to the role for several years already. Originally, the word was that he was attached to the part of Black Adam, but in an interview last month he seemed to tease the role of Shazam himself.
Officially, Warner Bros. has not yet announced the Shazam movie, let alone Johnson as the star of the Shazam movie. But the fact that he's talking so openly about it suggests it's close to happening. Maybe those rumors of a Shazam film for 2016 weren't so far-fetched after all.
Update: Brazilian site 
 (via
) quotes Johnson saying the following, through Google translate:
My trip to Comic-Con was a surprise, so I called personally to executives at New Line and Warner Bros. to see if they would like to announce Shazam there. Unfortunately, it was not time yet, but the official announcement should happen soon.
I am 100% sure that the movie will happen. We're talking about it since 2008, when I was offered the role first. It was just a matter of finding the right script – and it finally happened now. We have a writer who understood the story and brought an amazing approach not only to Shazam, but also the power of Adam Black."
Which part would you rather see him play?