Patrick Hughes Offers More 'Raid' Remake Details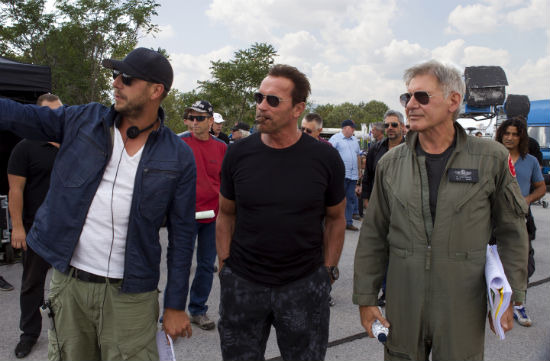 One of the biggest rules in Hollywood is lock up your next project before your current one hits theaters. That worked out well for director Patrick Hughes (left) this week. His latest film, The Expendables 3, grossed only $16.2 million on its opening weekend, which is half what the first film earned on its opening weekend in 2010. Despite the disappointing grosses, Hughes is already prepping a remake of The Raid and has Frank Grillo lined up for one of the leads.
Grillo, however, will have lots of company in the film, according to Hughes' latest quote. The director said the film has about twelve main roles, revealing one of the ways they plan to account for not having Iko Uwais. Read more about The Raid remake below.
Hughes spoke to Grantland about Expendables 3 and briefly mentioned The Raid remake:
Stallone's endorsement is already paying off for Hughes. As The Expendables 3 rolls into theaters, the director is prepping his next blockbuster: a remake of the 2011 Indonesian fight film The Raid: Redemption. He describes his version as being in the vein of Black Hawk Down and Zero Dark Thirty, signaling major departures. He's casting the 12 integral roles of the film's ensemble, with sights on shooting early next year. "After that, I'm pretty sure I won't do a movie with ensembles, camouflage, and guns for a while."
Both Black Hawn Down and Zero Dark Thirty are ensemble films. The original Raid is not. As stated in the quote, that's a pretty radical departure, but a welcome one. Few people in the world can duplicate what Iko Uwais does in The Raid and its sequel. Trying might just be stupid. So if Hughes is taking the idea of the film, a skyscaper full of drug dealers, and twisting that to be about a team of cops attempting to infiltrate, that makes sense. It's a little more familiar than the lone martial artists doing the same thing, but there is definitely potential there.
Of course, Hughes has hinted at this story before. He's just never been so specific. Here's an older quote about the film:
Certainly, we're not there to recreate that film beat for beat, with the set up we're following a DEA task team, which was implemented by the Bush administration after September 11th when they realized that terrorism and the drug trade were so closely aligned. So they set up a DEA task team that's six units and they work across borders and sort of act like Navy SEALS. You never read about it, you never hear about it, but they go on these missions. So that's a really interesting take and a really nice premise and also what's interesting on this take on it is the clash of cultures and the clash of martial arts, the fighting styles, which is something that's going to be a lot of fun when we've really started pre-vizzing stuff.
What do you think about this more expansive adaptation of The Raid remake?