Exclusive: Pop Culture Gets Square At Dave Perillo Gallery 1988 Show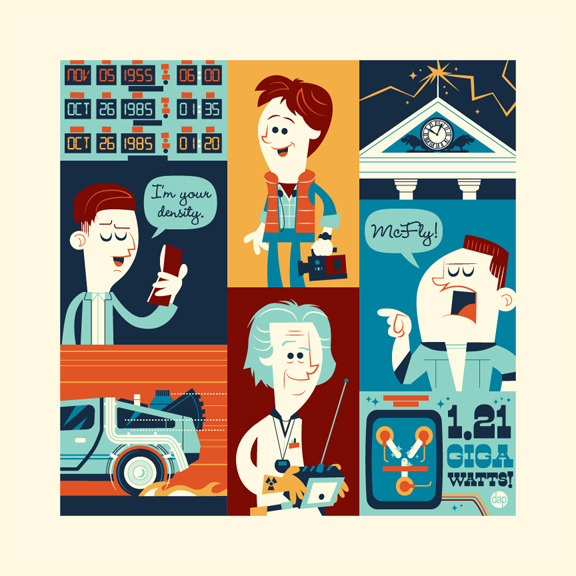 Plain and simple, Dave Perillo's art makes us smile. It evokes feelings of childhood wonder with its bright colors, unique layouts and geometric styles. Filter some of pop culture's most famous properties through that style and you're left with pieces that represent both fandom and fun.
Perillo has been part of innumerable shows and released dozens of prints through Mondo, Gallery 1988, Acme Archives and many more. But, for the first time, Perillo now has a solo show at Gallery 1988. It's called Squares 4 Squares and opens Friday August 22 at Gallery 1988 East, 7021 Melrose Ave., Los Angeles, CA. The show takes properties from the world of movies (Back to the Future, Star Wars), TV (Doctor Who, Scooby Doo) and video games (Super Mario Bros.) and compresses them down into squares that can be arranged however you like, or combined into one to tell an almost comic-like story.
Below, we're proud to exclusively debut a few of the full run of almost 50 prints that'll be in the show. Check them out below.
Here are some pieces from Dave Perillo's Squares 4 Squares, which opens from 7-10 p.m. August 22 at Gallery 1988 East, 7021 Melrose Ave., Los Angeles, CA. It remains on display through September 20. Visit www.gallery1988.com for more info.
When Perillo started exhibiting in galleries, his earliest pieces were in a square format. That's how Squares 4 Squares came to be. "I figured since this was my first solo show at Gallery 1988 I'd revisit that idea," he said. "I think this just gave me an opportunity to expand on a style I've done in the past that people always seemed to enjoy, and try out something new with the smaller set of four prints. Hopefully people dig them."
There are almost 50 pieces in the show, ranging in size from 18 x 18 all the way down to 6 x 6. Many of the 6 x 6 pieces will be sold in sets of four (as seen above with the Mos Eisley characters). Perillo loved having the opportunity to just run wild with the ideas. "A lot of times you're working with limitations and restrictions," he explained. "With a solo show you can pretty much do whatever you like."
Well, not "whatever" you like. He was too late to do a Guardians of the Galaxy piece, but agreed almost all of the show is recognizable to a wide audience. "I think, for the most part, everything [in the show] is well-known," Perillo explained. "I did a few video game related pieces that might be a bit obscure. It's a balance of doing stuff that I like but at the same time doing art that others will like too. For example one of my favorite movies is a weird flick from the 80's called Scavenger Hunt, I used to watch it constantly. I doubt anyone would really want a print by me of some stolen ostriches, Tony Randall & James Coco wearing pantyhose on his head... or maybe they would."
So while there's not a Scavenger Hunt piece in the show, people who arrive early will get a chance to buy original Perillo sketches and receive free exclusive. "I will have a small giveaway print for folks that come out on the opening night," he said. "I only have so many and It'll be first come first serve so get their early. Don't want to reveal it just yet but I thought it worked as a exclusive print since it's based on something rare... and blue."