Marvel's 'Ant-Man' Begins Production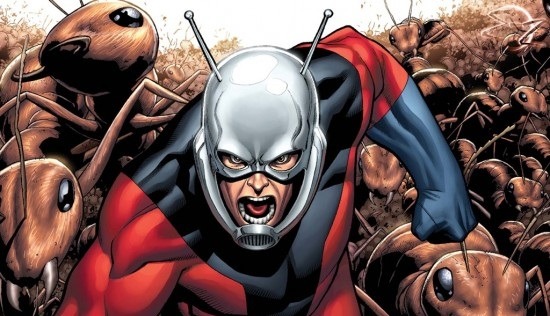 After ten years, two directors, and several months of well-documented troubles, Ant-Man has finally gone into production. Director Peyton Reed announced the good news today.
Paul Rudd and Michael Douglas lead the Marvel movie as Scott Lang and Hank Pym, respectively, while Corey Stoll, Evangeline Lilly, and Michael Peña round out the rest of the cast. Hit the jump for more details.
Alright, gang. Today is the day.

LET'S. GET. small.#AntMan

— Peyton Reed (@MrPeytonReed) August 18, 2014
Shooting will reportedly begin in San Francisco, under the working title "Bigfoot," before moving to Atlanta.
Ant-Man was originally on track to begin shooting this spring. But director Edgar Wright's last-minute exit threw the project for a loop. Production was delayed while Marvel scrambled to find a replacement. Ruben Fleischer, Adam McKay, and David Wain were among the filmmakers considered before Reed finally won the job.
When he dropped out, Wright (along with Joe Cornish) had been working on Ant-Man for over a decade — first with Artisan Entertainment, who held the rights at the time, and then with Marvel Studios, who officially hired him to direct in 2006.
Wright and Cornish spent the next several years developing Ant-Man even as they released other films. In 2012, Marvel got a head start on building hype by showing a reel of test footage at Comic-Con; an official release date was announced a few months later.
From there, things seemed to be going well for a while. Wright completed his script in 2013 and started putting together a top-notch cast. It therefore came as a huge shock when he left the project over creative differences, though it's since become clear that trouble had been brewing for a while.
Rumor has it that a rewrite of Wright and Cornish's original script was what prompted their exit. Since then, Ant-Man has undergone a couple more rewrites, first by Adam McKay and then by Gabriel Ferrari and Andrew Barrer.
So the Ant-Man going into production today isn't exactly the same Ant-Man that Wright was supposed to start filming back in May. Nevertheless, Reed's version of the film will retain certain elements from Wright's version, including some of the visuals.
Which puts Reed in an awkward position. It'll be impossible to sort out Wright's contributions from Reed's in the final product — and since so many fans are still upset about Wright's departure, Reed may end up getting blamed for anything that goes wrong while Wright gets credit for anything that goes right.
But the good news for Reed is that he has almost a full year to get people to come around. And, well, that he's directing Ant-Man. A Marvel movie is the closest thing Hollywood has to a surefire hit these days, so by this time next year he should be sitting pretty.
Ant-Man opens July 17, 2015. Here's the synopsis:
Armed with the astonishing ability to shrink in scale but increase in strength, con-man Scott Lang (Rudd) must embrace his inner-hero and help his mentor, Dr. Hank Pym (Douglas), protect the secret behind his spectacular Ant-Man suit from a new generation of towering threats. Against seemingly insurmountable obstacles, Pym and Lang must plan and pull off a heist that will save the world.